Danielle Cohn is a rising star. She is a good singer. However, she is mostly famous because of her real-age controversy, or dating the same guy [Mikey Tua] twice. Danielle's real age might always stay a mystery. But she has definitely reached new levels of maturity and that's obvious from the ways she is handling every situation thrown at her. Probably that is why she has broken up with Mikey Tua, again. But this time she claims the breakup is final and there is no going back. Danielle Cohn also released her breakup song titled I'm Done.
Related: Danielle Cohn explains her tattoos and regrets
Danielle Cohn is done with Mikey Tua
A few days back, Danielle Cohn confirmed on her Instagram stories that she has broken up with Mikey Tua. However, she wished him all the best. She also confirmed that she has so much love for Mikey. They were together for a long time.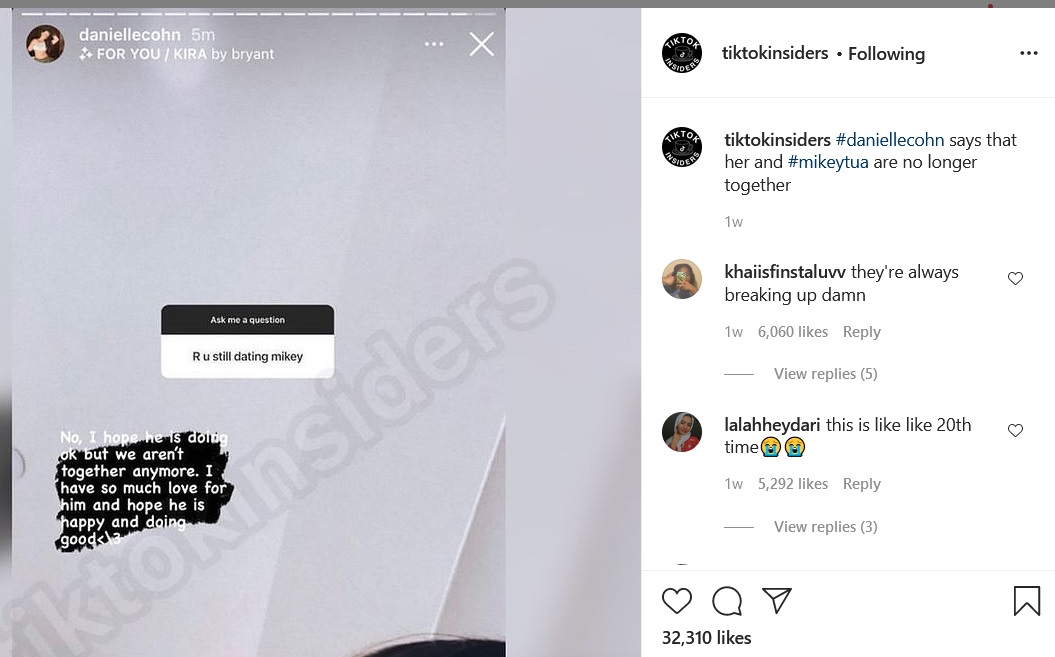 When Danielle Cohn and Mikey Tua started dating again last year after her breakup with Ethan Fair, Mikey gave her a promise ring. They always talked about their future together.
Related: Danielle Cohn & Mikey Tua are engaged?
Their first breakup was due to her age controversy, and Mikey's parents taking a stand for their son. Mikey also stated that he did not want to date such a young girl. After the breakup, Danielle started dating Ethan Fair. But they were not meant to be together so they broke up soon. Out of nowhere, an audio was leaked on the internet and one could easily recognize Danielle and her mother's voice arguing over her abortion. Danielle Cohn later confirmed that argument to be true. She also outed Ethan Fair as the father and confirmed that he was not there with her at the time of abortion.
Danielle Cohn started dating Mikey Tua again and they were having a good time since then. Mikey left his family and apparently started living with Danielle Cohn and her family. Danielle also bought a separate house for Mikey to live in. The song I'm Done highlights how they broke up and why she does not feel like going back to him again.
Related: Danielle Cohn exposes Ethan Fair after he triggers a new dramageddon
Song lyrics
I don't need you, let's break it easy
But all the diamonds you bought, I'ma keep 'em
Say you love me but I don't see it
Say "you don't mean it" but I really mean it
I'm done with all your lies, yeah
'Cause you broke my heart not once but twice
Danielle Cohn sings about the times Mikey lied to her. Since the breakup, Mikey Tua has been trying to be a supportive ex-boyfriend. However, Danielle's fans want him gone from her life.
Don't need your love, I need that money though
I'm not gon' lie, I like being alone
Like growing up I had just what I want
What you did for me, I do it on my own
Mikey is using Dani's name for clout after breakup?
Many people still believe that Danielle Cohn and Mikey Tua might be back together soon and they might be doing it just to promote this song. On the other hand, no one writes a breakup song, releases it ASAP and calls ex-boyfriend out on the social media, all that after saying that there is still love for him in her heart.
Before the song I'm Done was released, Brooklyn Queen recorded a TikTok with Mikey Tua with a not-so-cryptic caption:
https://www.tiktok.com/@brooklynqueen3/video/6956655281187065093?lang=en&is_copy_url=0&is_from_webapp=v1&sender_device=pc&sender_web_id=6950268238312687109
Danielle Cohn replied to the TikTok: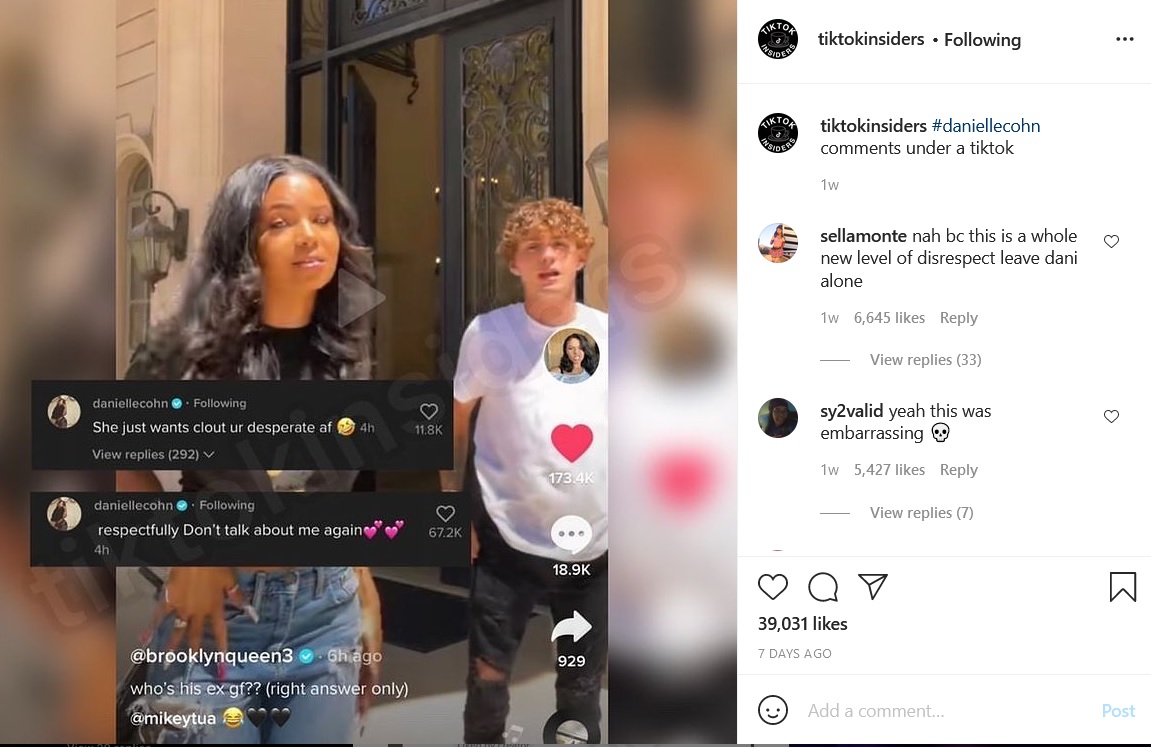 And Mikey Tua stepped in to declare his love for Danielle Cohn.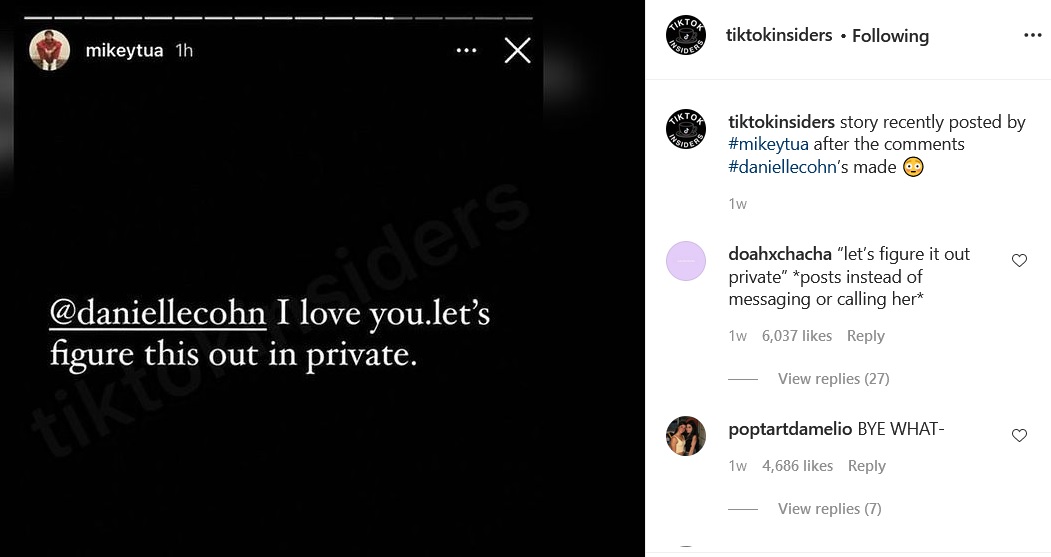 Brooklyn posted another tiktok to address the situation:
And Danielle responded on tiktokroom IG account: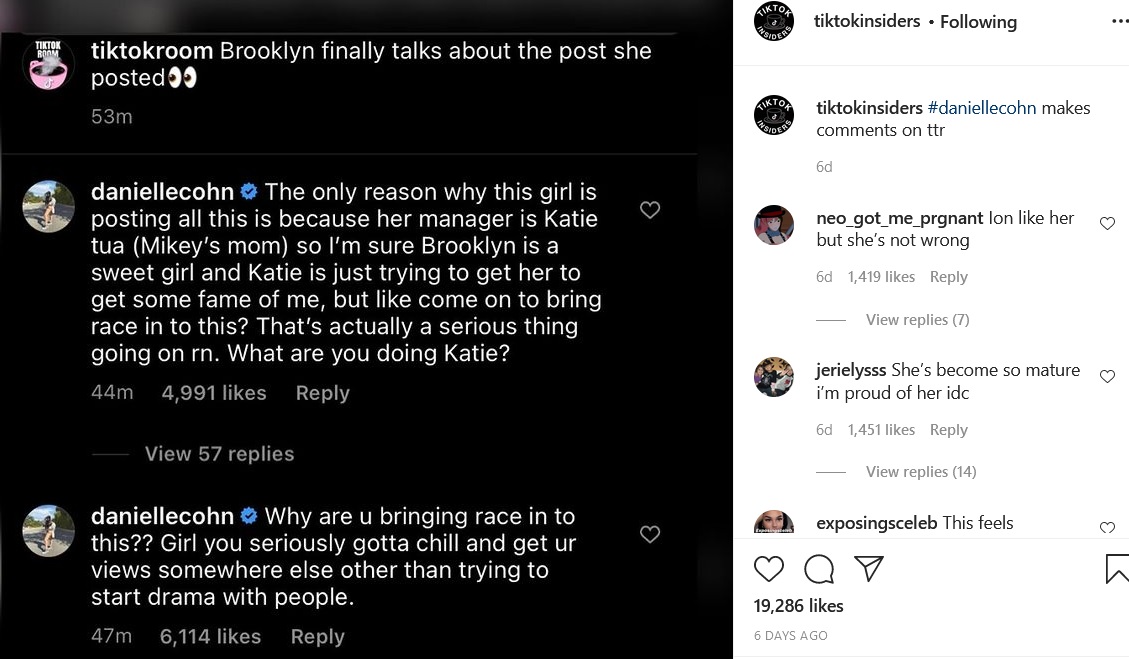 While Danielle is done with Mikey, he is apparently not done with Danielle. At one side, he is posting TikToks with girls all the time. At the other side, he is posting cryptic Instagram stories with songs that show he still loves Danielle Cohn.
Is this the final break up? We will know when the time comes.