Kalani Hilliker is learning that it's best to keep political views to yourself during a really polarising time in America. As the 2020 US Elections take place, the whole country divides itself based on who they're voting for. While many celebrities and influencers are huge Joe Biden supporters, there are some that are still voting for Trump. Kalani happens to be one of them. But she's facing a lot of backlash for endorsing Donald Trump.
When she first made the Donald Trump endorsement, Kalani Hilliker faced a lot of backlash
On Instagram, Kalani Hilliker urged everyone to vote and said that voting is an important right: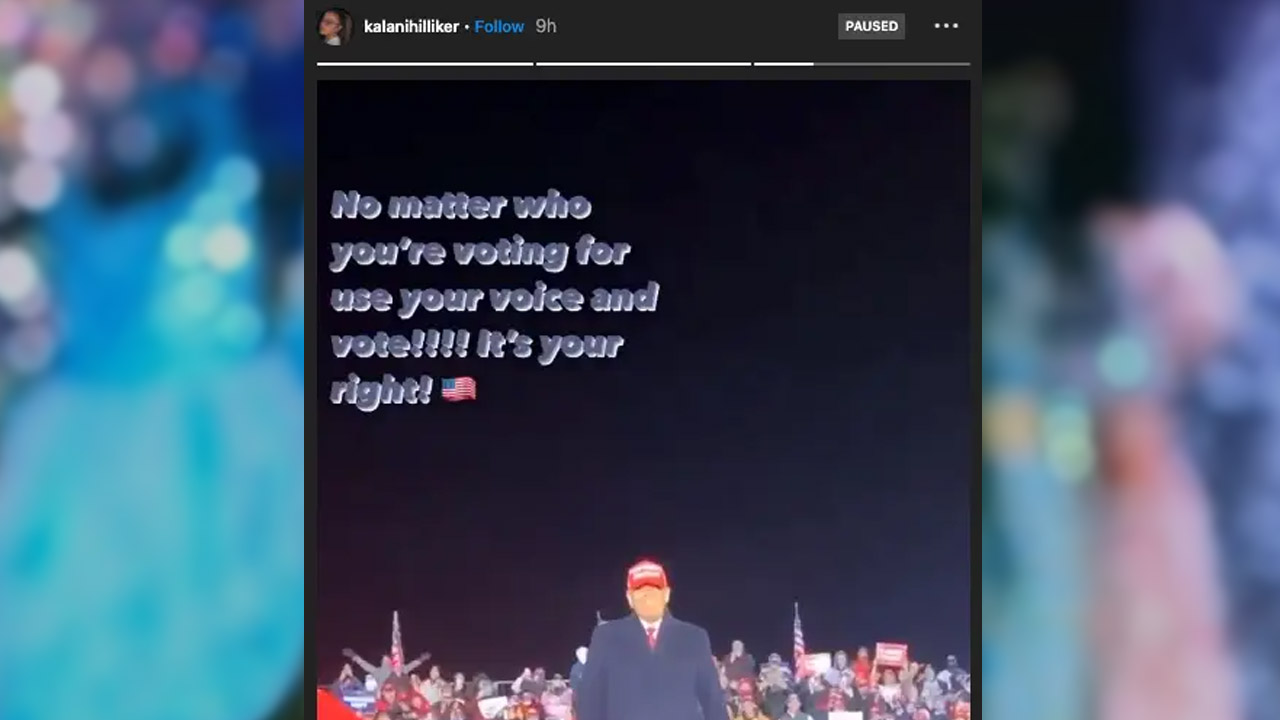 The picture is from a Donald Trump campaign rally. On the picture, Kalani Hilliker writes:
No matter who you're voting for. Use your voice and vote!!! It's your right.
Along with this, she also tweeted out:

And the endorsement for Donald Trump really did not go well. There was a lot of criticism aimed at this post:
https://twitter.com/SOURXMEDICINE/status/1323685425668640768
One Trump critic stated that Donald Trump 'hates women'.
Though some got quite personal and shared the performances she did on 'Dance Moms'. She was a regular cast member of the reality show from 2014 to 2017.
idk what's messier, this nasty post or this flop of a routine pic.twitter.com/tTo9RiJoKk

— bb23 (@Janelleskincare) November 3, 2020
Though, some liked her dancing but didn't think they could support her anymore:
https://twitter.com/dannycuevas5/status/1323701957895348226
There was also someone posting an angry rant about how voting for Trump meant that they were selfish and only cared about money:
https://twitter.com/jooheonshoney_/status/1323727445539786753
There were a lot of responses from Trump critics:
Yeah no so not only are you voting against YOURSELF, your friends and your families rights. you're also voting against the people that idolise you rights…this is not what a role model or any good human being should do

— skye (@FINEWA11S) November 3, 2020
Another Dance Moms contestant Nia Sioux also responded
Nia Sioux also criticized Kalani Hilliker for voting for Donald Trump. She added on her Instagram Story Kalani's post and shared that it is important to respect everyone around you.
However, she also added this:
"it's so hard to respect a president who doesn't respect me, or women, or minorities, or the LGBTQ community. I'm all for respecting people but at a certain point when someone can't even denounce white supremacy how can you have respect for that person?"
After the backlash, Kalani Hilliker attempted to defend her actions by saying she still supports people of color and women rights
She added a long note on Twitter explaining her political beliefs with an emphasis on how she still supports human rights
I haven't endorsed a political candidate in the past but as a first time voter myself I felt that now more than ever it was important for everyone to use their voice and vote, no matter who they're voting for. There were 2 candidates to chose from and although I don't fully agree with either, I believe Trump is the better choice for our country.

It's important to note that I support the LGBTQ, Latino, African American, Asian American, and all other ethnic communities. I am also a strong supporter of women's rights.

No one should be deterred from expressing their opinion in fear of being bashed, bullied, and denounced publicly by their friends.
Kalani Hilliker explained that she should not be 'bullied' by 'friends' based on just expressing her political views.
Moreover, she also stated that she's using her 1st amendment right, her freedom of speech. Hilliker also hoped that her coming out with her political beliefs would make others brave enough to share their non-popular political views too.
I feel obligated to exercise my 1st amendment right to serve as a reminder to my friends and anyone else that feels they have to live a double life. Supporting and voting for one candidate privately yet publicly supporting the other out of fear of being attacked simply for their political beliefs.
Kalani Hilliker also attempted to reunite the whole country with the message:
No matter what the results are we need to remember that we're all Americans and we need to respect one another, have productive conversations, and work together for the betterment of our country.
The defense didn't go over very well either
Popular YouTuber Tyler Oakley who's very a strong Democrat Supporter, shared this on her explanation note:
Another Twitter user asked Kalani how she can vote for Trump and still support LGBTQ, women, and BIPOC rights.
https://twitter.com/2020predicts/status/1324121351414829056
Internet personality Andrea Russett simply wanted Kalani Hilliker to unfollow her:
girl if u don't unfollow me

— Andrea Russett (@AndreaRussett) November 5, 2020
Kira Kosarin attempted to give some advice to Kalani Hilliker without being too critical:
You can't support women/poc/lgbt and support Trump. He is against all of those things. You gotta pick one.

I'm glad you're exercising your right as a new voter, but it would be worth doing the research to see which party is truly more in line with your views.

— Kira Kosarin (@kirakosarin) November 5, 2020
Meanwhile, another politically vocal and LGBTQ YouTuber, Daniel Preda said this:
it's the decline of your career, for me

— Daniel Preda (@MisterPreda) November 4, 2020
Well, let's hope America can eventually heal from the polarizing and stressful time it is dealing with right now.