American rapper 'Elizabeth Eden Harris' also known as 'CupcakKe' is not in the mood to see Jeffree Star on her social media. Now you all must be thinking about how 'CupcakKe' and 'Jeffree' are linked. Well, they're not. But recently a very indirect twitter spat started between Jeffree and his new boyfriend's ex-girlfriend. And now some fans are thinking Jeffree is copying CupcakKe's style just to get in a twitter spat with her. CupcakKe on the other hand has some history with both Jeffree and his dear friend Shane.
What's cooking between CupcakKe and Jeffree Star?
So  Jeffree posted a tweet a few hours ago. In which he is wearing pink hair extensions which are in two ponytails. And he further captioned it as:
"resting bi*ch face on accident."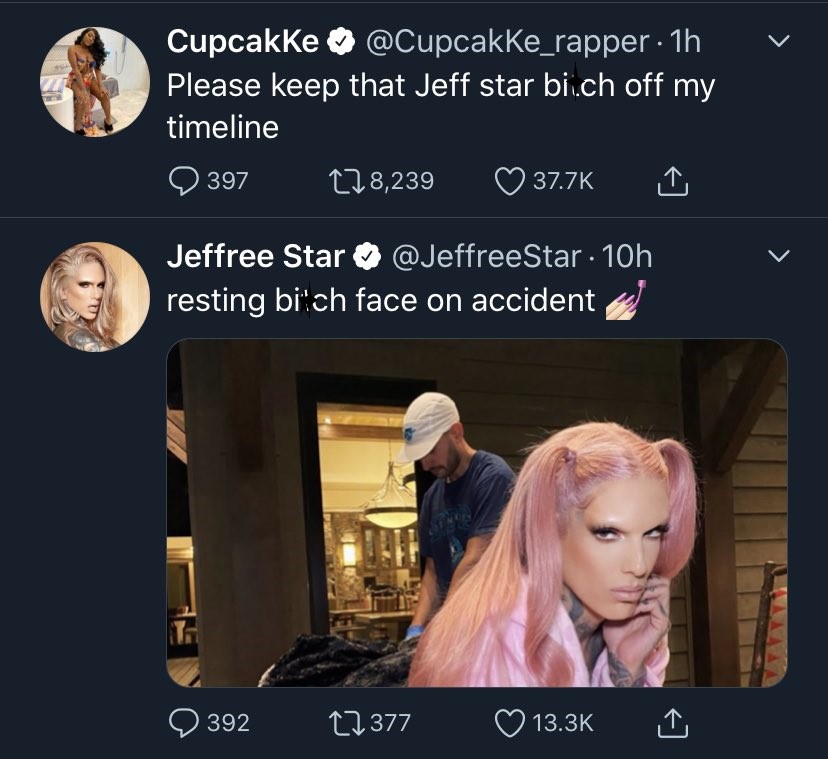 A few hours later, rapper 'CupcakKe' just posted a tweet in which she is clearly referring to Jeffree's latest tweet:
"Please keep that jeff star bi*ch off my timeline".
Some of the fans think Jeffree has copied CupcakKe's style just to throw shade at her. Or maybe he just wants to get into another twitter spat.
We really don't know what's the actual reason behind their indirect exchange of unpleasant tweets. But CupcakKe was close to Jeffree's friend Shane Dawson. They have also made a bunch of videos in the past.
https://youtu.be/Yk5YkmZU5T4
We really don't know why this video is still on YouTube. I mean it has too much information regarding the banana action. Watch the video and you will know what I am trying to say.
So, Shane and CupcakKe were pretty close to each other. They have made a bunch of videos in the past. So maybe she has some history with Jeffree too.
CupcakKe ended her friendship with Shane Dawson when the Willow Smith video started surfacing on social media.  Shane was pretending to mastu*bate to her poster when Willow was just eleven. CupcakKe posted a tweet which said:
"Shouldn't be lusting over no child at all. It's sick… Shane Dawson, it was fun making videos with you but I choose to unfollow you. And go my separate way."
Let's wait and see if Jeffree or CupcakKe are actually going to explain what happened in the past.