There are rarely any people on the planet more influential than soccer players, and Cristiano Ronaldo is at the top among them. His reach is so massive that just one snub is symbolic enough to wipe off millions from the profits of Multi-National Corporations. And that is exactly what happened in the pre-match press conference for his Group F match against Hungary at the Euros 2020.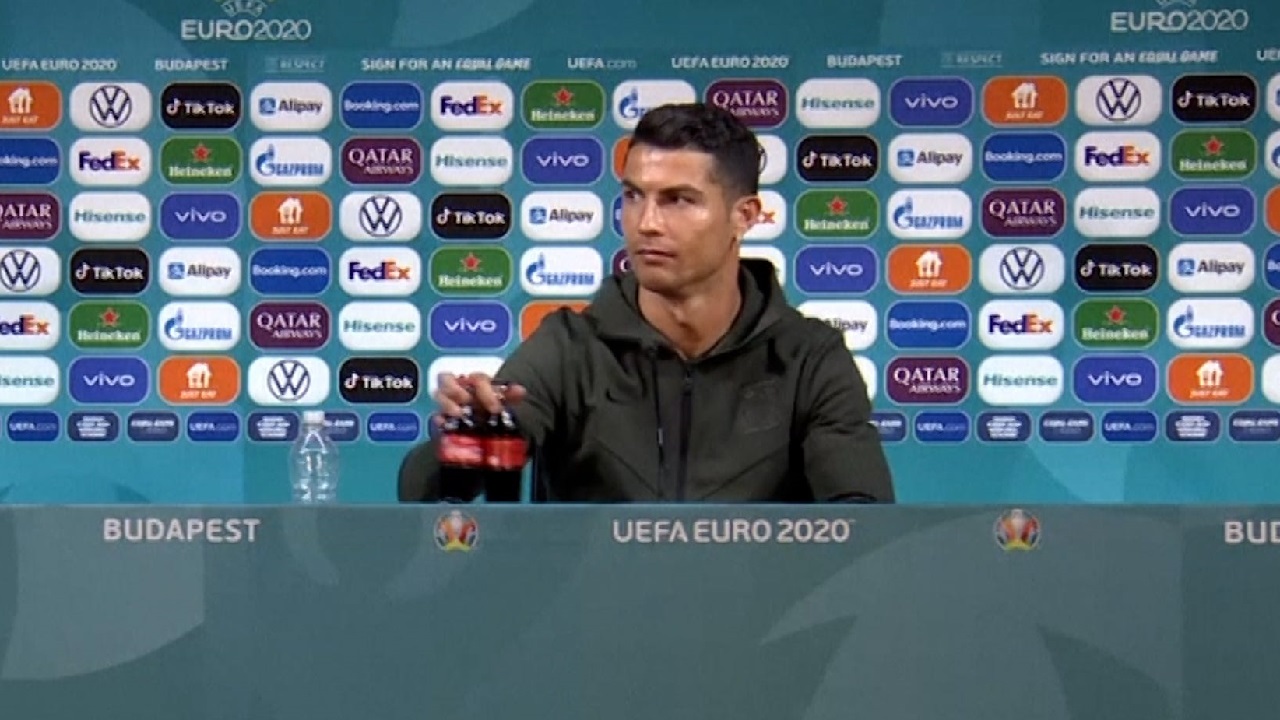 It is no secret that Cristiano Ronaldo is a fitness freak and a health fanatic. That is why he is still competing at the top level in soccer, despite being 36-years-old. At that age, most footballers just hang their boots and announce their retirement. But not Ronaldo, and one of the reasons for this level of fitness is his refusal to drink carbonated drinks.
In the press conference, the 36-year-old Portugese International shifted two bottles of Coca-Cola away from the table and from everyone's sight. That was followed by him holding up a bottle of water, saying in Portuguese "Agua!". He said this to apparently encourage people to drink water instead of Coca-Cola. Ronaldo did that despite the fact that Coca-Cola is one of the official sponsors at Euros 2020.
This was a significant snub for Coca-Cola, as the company's share price took a dive from $56.10 to $55.22 (1.6%) almost immediately after his gesture. Furthermore, the market value of the MNC went from $242 billion to $238 billion, a $4 billion drop.
One of the Euro 2020 spokespersons said every player "is entitled to their drink preferences", continuing:
Players are offered water, alongside Coca-Cola and Coca-Cola Zero Sugar, on arrival at our press conferences.
Share value drop may not be because of Cristiano Ronaldo, but the snub is significant
However, some analysts say that the drop in share price is not because of Ronaldo's gesture. Nicholas Johnson, an equity analyst at Morningstar, told the Insider:
The coincidental drop in Coca-Cola's stock could very well be a spurious correlation to the comment made by Cristiano Ronaldo. Celebrities do play a role in the positioning of brands in consumers' minds, but the extent of this is much more limited for an iconic brand like Coca-Cola… It's also worth noting the breadth of Coca-Cola's portfolio, which spans healthier options, like zero sugar, all the way to water brands like Dasani and SmartWater.
Even if we take Johnson's words at face value, the snub is still significant. Cristiano Ronaldo has over 300 million Instagram followers. Furthermore, millions of kids and adults admire him and his lifestyle, and such a snub would have an impact on their perception of the beverage. The fact that multiple news outlets are still talking about it is a testament to his reach.
Moreover, this isn't the first time Cristiano Ronaldo has made scathing remarks on Coca-Cola. Back in December of last year, Ronald admitted that he got angry whenever his son drank fizzy drinks. He said at an award ceremony:
I'm hard with him sometimes because he drinks Coca-Cola and Fanta sometimes and I'm pissed with him. I fight with him when he eats chips and fries and everything, he knows I don't like it.