So, Chris Pratt is trending on Twitter for all the wrong reasons. He is facing backlash for his conservative political views. Moreover, what's funny is that it all kind of began with a single harmless tweet. As a result, his family members and fellow Marvel and MCU stars are rallying in to defend the actor. So, here's how this series of unfortunate events took shape.
How Chris Pratt got trending on Twitter
It all began with one simple tweet by TV writer Amy Berg that seemed quite innocent when you look at it:
One has to go. pic.twitter.com/HUWnbQOA43

— Amy Berg (@bergopolis) October 17, 2020
Now, there were some divided fans, who wanted to get rid of Chris Hemsworth, Chris Evans, or Chris Pine. However, the vast majority just wanted to get rid of Chris Pratt:
unless one of them other than Chris Pratt once gave away an old cat because it was too much trouble to take of, he's definitely the one who's canceled (backstory: https://t.co/eAcHS8xjKf) https://t.co/SjSA8t6bU3

— shauna (@goldengateblond) October 20, 2020
But it pretty much became a trend, as does everything on Twitter. People would Quote any "One has to go" tweet with Chris Pratt. They made a joke out of the whole saga. Here are a few tweets:
Chris Pratt. https://t.co/MMCp7DoWcb

— bin Adamah #StopHazaraGenocide (@JShahryar) October 19, 2020
https://twitter.com/GailSimone/status/1318194292024696832
Then, Chris Pratt's political views started getting questioned
However, as Chris Pratt got trending, some people brought up some old controversial topics about the actor. Most of it had to do with Chris Pratt's political views. Chris is someone who has mostly remained silent when it comes to politics. But, there are some instances in the past where fans have called his political views in question. This one time, he didn't assemble with the rest of his Avengers cast members for a Joe Biden fundraiser:
Chris Pratt hoping no one notices his absence here https://t.co/6SW0A40Kd0 pic.twitter.com/K8VkYryzYR

— Jonathan (@jonathanmb32) October 18, 2020
And then, there's that problem with Chris's Hillsong church. His church is accused of being anti-LGBTQ by supporting conversion therapy. And in 2019, he has defended his church, saying:
Nothing could be further from the truth. I go to a church that opens their doors to absolutely everyone. Despite what the Bible says about divorce, my church community was there for me every stop of the way, never judging, just gracefully accompanying me on my walk. They helped me tremendously offering love and support. It is what I have seen them do for others on countless occasions regardless of sexual orientation, race or gender.
This Twitter user also highlighted the problem with Chris Pratt's church and how it dents his political views:
For those insisting there's "no source" showing that Chris Pratt supports conversion therapy, you don't get to go to a notoriously homophobic and abuse-harboring church like Hillsong and then pretend that you're not complicit. That's not how anything works ¯_(ツ)_/¯

— Chrissy Stroop (@C_Stroop) October 19, 2020
But, that's not where the controversies end. There was a lot of outrage when he was photographed wearing a "Don't Tread On Me" shirt. And then, people found something problematic in his Instagram following. Chris was following several right-wing accounts, like Ben Shapiro: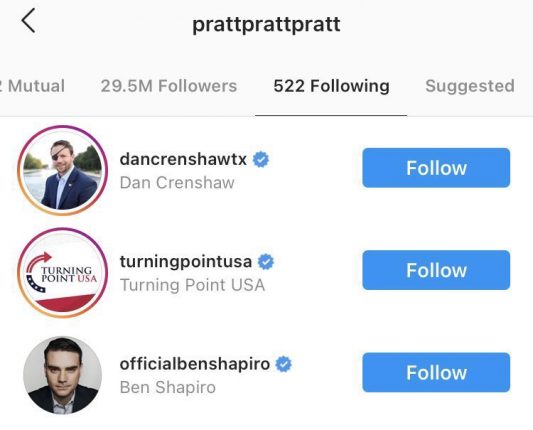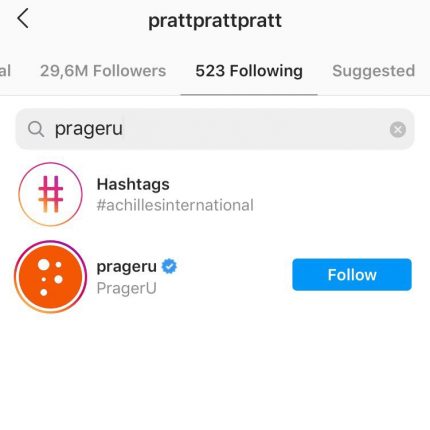 Despite all this, Chris Pratt has never expressed his political leanings in public.
Fellow Avengers publically defend him
Ever since his alleged political views were brought up again, Chris Pratt has been silent. However, his wife Katherine Schwarzenegger defended him on Instagram in the replies to an E! News post: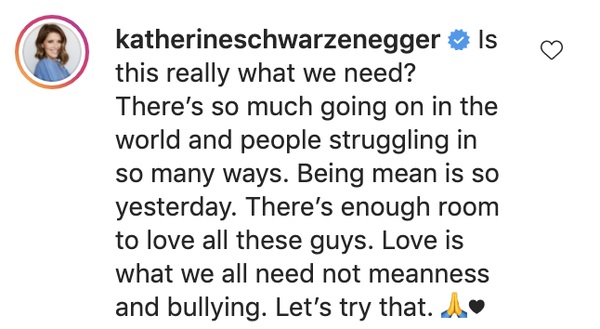 It's also important to note that Chris's wife Katherine is the daughter of the Terminator Arnold Schwarzenegger, who is a Republican through and through and was the Governor of California as well. That said, Arnold has been principally against Donald Trump ever since he became the front runner Republican candidate in 2016.
But, other than his wife, fellow Avengers also came to Star Lord's rescue. Mark Ruffalo tweeted:
You all, @prattprattpratt is as solid a man there is. I know him personally, and instead of casting aspersions, look at how he lives his life. He is just not overtly political as a rule. This is a distraction. Let's keep our eyes on the prize, friends. We are so close now.

— Mark Ruffalo (@MarkRuffalo) October 20, 2020
Zoe Saldana also jumped in to defend Chris Pratt, saying how his "family, friends, colleagues & everyone who's ever crossed paths with you knows your heart and your worth!"
No matter how hard it gets, stick your chest out, keep your head up and handle it.
-Tupac
You got this @prattprattpratt . Your family, friends, colleagues & everyone who's ever crossed paths with you knows your heart and your worth!

— Zoe Saldana (@zoesaldana) October 21, 2020
Finally, the big guy and Avengers: Endgame star Robert Downey Jr. also defended Chris Pratt in an Instagram post, writing:
The "sinless" are casting stones at my #brother, Chris Pratt… A real #Christian who lives by #principle, has never demonstrated anything but #positivity and #gratitude… AND he just married into a family that makes space for civil discourse and (just plain fact) INSISTS on service as the highest value.
Downey Jr. further added:
If you take issue with Chris,,, I've got a novel idea.
Delete your social media accounts, sit with your OWN defects of #character, work on THEM, then celebrate your humanness…
https://www.instagram.com/p/CGlMURZlYWZ/?utm_source=ig_embed
The other three Chris, Hemsworth, Pine, and Evans haven't yet rushed to his defense. But, what do you guys think about Chris Pratt's political views? Do you think that his political leaning shouldn't matter, or does his "silence" speak volumes? Let us know in the comments below.