Charli D'Amelio is one of the most famous TikTok stars of the current generation. She has been a professional dancer for ten years before joining the TikTok platform. D'Amelio is renowned for her swift moves and the content she has created for her fans. Moreover, she was the youngest to be added to Forbes Fortune List.
She has also participated in an American dancing competition show named 'Dancing with the Stars. Charli D'Amelio has her show on Hulu with her family, highlighting the good and bad about their lives. Besides all that, she has also voiced for movies. We have made a list of the best Charli D'Amelio movies for you to get into this famous media personality.
Related: Charli D'Amelio Making Dancing With The Stars Debut | Where To Watch Online
StarDog and TurboCat
This is a 2019 British comedy and 3D superhero film starring the voices of Charli D'Amelio. It is one of the very first Charli D'Amelio movies. Screen Yorkshire and Head Gear Films have produced this movie. Ben Smith is the director and has also written the screenplay. Smith has produced StarDog and TurboCat with Jan Rogowski. Kaleidoscope Film Distribution and Searchlight pictures have been distributed it. Red Star has edited it. The plot of this animated movie revolves around a golden retriever named Buddy. He is launched into space by his owner. However, things don't go as planned. When the capsule he was sent into malfunctions, it mutates his DNA, resulting in him receiving his superpowers.
After fifty years, his capsule reenters Earth, but this time into the fictional land of Glenfield. He tries to converse with people, but instead of welcoming gestures, they become angry. Meanwhile, he realizes the capsule is nowhere to be found. He ends up in a police station where he finds stray dogs who tell him that humans at Glenfield hate animals.
Hence, these animals now have a mission to bond with one another and help Buddy find his capsule. This animated film is authentic entertainment and also a great movie for kids. The cast of this film includes Luke Evans as Felix, Nick Frost as Buddy, Gemma Arterton as Cassidy, Bill Nighy as Sinclair, Ben Bailey Smith as Bullion, Charli D'Amelio as Tinker, etc.
The Disney Family Sing-Along
The Disney Family Sing Along is an American Television series started in 2020. Mason Steinberg and Brian Strickland wrote this show. Hamish Hamilton directed it, and Ryan Seacrest was the presenter. It was broadcasted by ABC network. The show was about the musical performances of famous singers and celebrities singing Disney songs from their homes. Moreover, these performances had on-screen karaoke lyrics so the family could enjoy it from the comfort of their house and have fun.
Most famous celebrities that appeared or joined this show include Demi Lovato, Ariana Grande, Keke Palmer, Beyoncé, Christina Aguilera, Kenny Ortega, Tori Kelly, Michael Bublé, Chris Harrison, Lionel Richie, Luke Evans, Charli D'Amelio, Elizabeth Olsen, Sebastian Stan, etc.
The producers are Kenny Ortega, Trevor Rothman, Rachel Sussman, Trevor Vaughan, and Kristen Wong. Furthermore, it had a Disney Sing Along Volume II and a Christmas Edition. Overall, it is a successful show because it has accompanied people during Covid-19 times.
Dancing with the Stars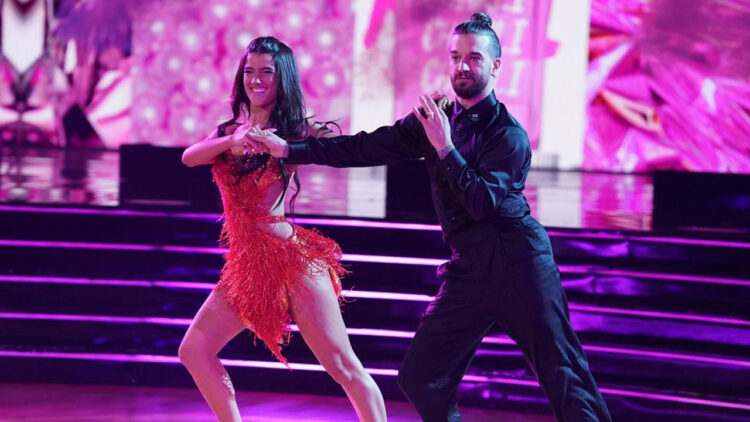 Dancing with the Stats is an American Dance Competition show that pairs celebrities with professional dancers. This show aired on ABC in 2005. It is a fun and entertaining competition where the assigned couples dance and try to win judges' hearts by showcasing their talents. The team that receives fewer points overall is eliminated at the end. This famous American show is now in its thirtieth season. This show is heavily watched not only in America but internationally as well. It is the American version o 'Strictly Come Dancing.
In 2022, it was announced that the 31st season of this show will now move on from ABC to Disney+. Samantha Harris, Lisa Canning, Tom Bergeron, Tyra Banks, Alfonso Riberio, Erin Andrew, and Brooke Burke were the presenters throughout the seasons. There is a total of 367 celebrities who have appeared in thirty-one seasons of this show, including Charli D'Amelio, Zendaya, Rob Kardashian, Rich Fox, Chris Jericho, Kelly Osbourne, Lisa Rinna, Sabrina Bryan, Jennifer Grey, Nicole Scherzinger, Shawn Johnson, Lil Kim, Ashley Hamilton, David Hasselhoff, Melanie Brow, Sara Evans, Pamela Anderson, and others. This is one of the most watched and loved shows on our Charli D'Amelio TV show list.
The D'Amelio Show
The D'Amelio show is a Hulu docu-series, an American reality television series. It highlights the ups and downs of the members of the D'Amelio show. It has a total of 2 seasons and will be renewed for season three in 2022. This series focuses on the lives of the famous TikTokers, the D'Amelio sisters (Dixie D'Amelio and Charli D'Amelio), and their parents. It shows the audience and their fan's day-to-day activities and how they solve issues coming their way. Moreover, the show has been watched by many Americans, making it quite popular in the reality television genre. Further, fans see how the family has handled the fame that came to them quickly.
The VP of documentaries at Hulu Show said about the D'Amelio Show,
The 'D'Amelio Show' joins our growing slate of docuseries about the human experience and we are incredibly excited to partner with the D'Amelio family to offer viewers an authentic look at the complicated lives of these two relatable young women thrust to the top of the social media algorithm.
'TIME Kid of the Year'
TIME for Kids has been in the works since 1995. It aims to deliver age-appropriate and essential news for the kids so they can learn and be knowledgeable. It supplies information about current events to countless elementary and middle school children. There are new techniques and ways in which children can learn and gain knowledge. OshKosh B'gosh and Greenlight sponsor Kid of the Year. In this show, the host Trevor Noah, announces the top five honorees and their work before announcing the Time Kid of the year. Charli D'Amelio, Meghan Trainor, and Charles Melton will be part of the year 2022 appearances at this show.