Protesters in Sudan face a Brutal crackdown by the military and the media remains silent. However, a few popular celebrities have shown an exception and raised their voice.
Celebrities like Rihanna, Wizkid, Demi Lovato, and the Hadid sisters have used their social media profiles to spread awareness among millions of their followers. Ever since then, posts and stories from these celebrities have seen massive re-shares, and have been of great help.
Related: TNT's Claws Season 3 Premieres On June 9th, 2019
Rihanna | The First Singer To Speak Up
Rihanna was one of the celebrities who posted an Instagram story about what was happening in Sudan whilst the country underwent an internet blackout. The internet could not stop lauding her effort to spread awareness for Sudan.
And Rihanna's emotional story caught the attention of many. This included Wizkid, who reposted her story on his Instagram account.
A fan tweeted, "mad respect to Rihanna for showing awareness of what's happening in Sudan on her IG story."
Ariana Grande Sharing Website Links For Donations
Furthermore, Ariana Grande also took time out to help the Sudanese people undergoing brutal torture. She posted a link where people could donate for emergency medical help in Sudan.
The Hadid Sisters
Meanwhile, Bella Hadid dedicated a post on her Instagram to raise awareness of the crisis. It was to educate the people as to what is happening in Sudan. She wrote a long emotional note saying it took her "a minute to fully wrap (her) head around and educate herself on (this)". The model posted an animated picture of an African woman with a banner that said "Stay strong Sudan".
The picture was followed by four more pictures on the same post. Each was telling more about what was happening in Sudan and raising awareness. One of these was a picture with a plain blue background, which was the favorite color of a young Sudanese man, Mattar. He was reportedly shot while protecting two women from the armed forces of the country.
I will be adding some websites to my story on how we can help. Donating or even just raising awareness helps, and if we all come together; we can make a difference.
In addition, she mentioned it was not aimed at blaming anyone for posting this. In fact, it was meant to help those in need.
Gigi Hadid also posted a story about Sudan. She's shared a link in her bio that leads to a UNICEF web page where people can donate to the well-being of the children in Sudan.
Demi Lovato Was Also Lauded For Her Efforts To Raise Awareness
Demi Lovato also dedicated her story to more than 70 million of her followers to watch. It was a step to raise awareness as to what was happening in Sudan. Consequently, people across Twitter are praising her efforts to spread the message across social media. But this singer went a step further. She painted her display picture blue to express her solidarity with the victims of brutality in Sudan.
Related: Beyonce, Demi Lovato, Ariana Grande, Jamie Foxx react to Daunte Wright's killing
Cardi B
Cardi B also posted a completely blue picture on her Instagram account to show solidary.
John Boyega
John Boyega shared a picture of a woman with blue background.
"The news of what's happening in Sudan is so sad. My prayers are with the Sudanese community, both living in Sudan and worldwide."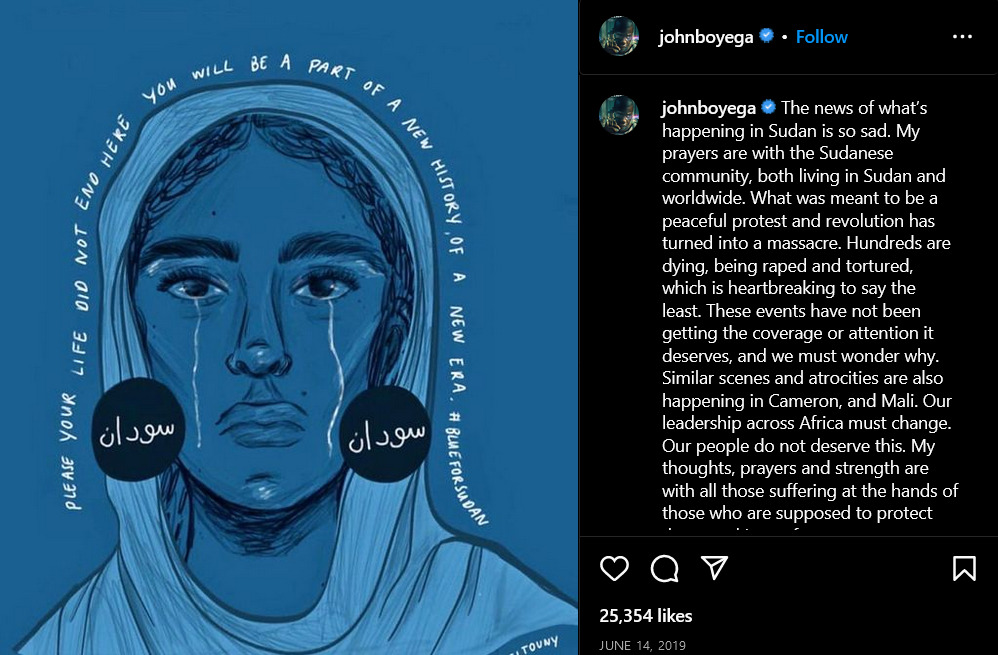 Source: Instagram
Hope For Sudan
In short, the situation in Sudan is slowly pushing people around to speak up against the ongoing brutality by the Sudanese armed forces. Celebrities are using their social media to create awareness whilst western media remains silent. With time, their efforts will allow people to become more aware of the current scenario.