Recently, there has been a new trend occurring. Perhaps, it's no trend but just a random coincidence that random celebrities are sharing their phone numbers so fans can text them. As of now, about 6 celebrities have shared their phone numbers to get more connected with their followers and fans. Each one did so for a different reason. Whitney Cummings, Ian Somerhalder, Sophia Bush, Misha Collins, and Lauv are the few celebrities that have taken part in this activity.
Sophia Bush Wants A Deeper Discussion With Her Followers For Her Podcast
One Tree Hill and Chicago P.D actress Sophia Bush has shared her phone number so that fans can text her questions and thoughts to discuss on her podcast. Her podcast 'Work in Progress' includes Bush inviting people from all walks of life that inspire her and two have a candid discussion about different topics.
In the video message, she explained that she wants to connect with her listeners on a deeper level. Check out the message here:
No.: (323) 405-9939
Misha Collins Wants to Stay In touch With Supernatural Fans
We all know Misha Collins from the show Supernatural. He plays the angel Castiel. Sadly, this year we will have the final season of Supernatural which means we won't be seeing Castiel on the screen anymore. This fact has made the actor sad and he doesn't want to lose touch with the Supernatural fandom. Collins stated that you could discuss 'Jensen's bad acting skills' too!
He talked about how everyone can tweet him on social media or text him on his number:
Interestingly, in the comments section, many have mentioned the phone number either isn't working or appears to stop suddenly.
No.: (323) 405-9939
Chat With Whitney Cummings Because She's Bored
Producer, writer, actress, and comedian Whitney Cummings is also one of the celebrities that don't mind texting with their followers:
She's mentioned in the caption what she prefers you send her:
I prefer dog pix to dick pix
On her Instagram stories, she's mentioned that this is in fact real. You can message her about anything. She could send you a text message to tell you if she's going to be in your city for her comedy tour or send you a gift card for the Reinasccance fair!
She also provided evidence to tell her fans that this is not a hoax: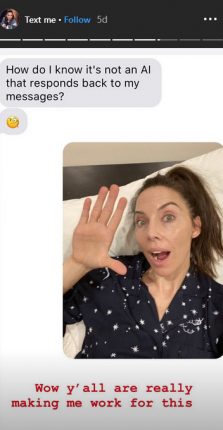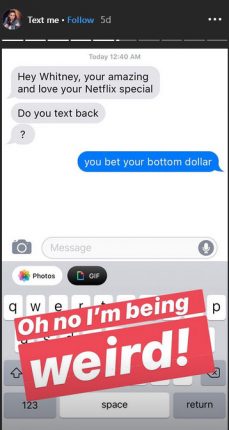 Lauv Had Some Free Time On His Music Tour
The singer Lauv is currently on tour and during his time there, he had some free time. So in an impromptu video, the singer says, "Text Me" and captions the video with a number.
Fans are commenting that the number doesn't work in countries other than the US. Moreover, some even stated that it was a bot but that they were still fine with that:
I just did 🙂 it's an auto text but it's ok
No.: (323) 208-0382
Ian Somerhalder Wants To Share Updates With His Fans In a Different Way
The actor shares in a video message to his fans that recently he's been shying away from using social media. Though, he has found another way to connect with his followers: a community number where followers can text Ian Somerhalder directly. Somerhalder said that he could tell his followers news and updates about his projects before the rest of the world finds out:
No. : 1-310-953-3314
It's clear that these are not actually their personal numbers but community numbers they have made for the sole purpose of connecting with their followers more. Try the number out and see if your favorite celebrity here responds or not. It seems as if Whitney Cummings, Sophia Bush, and Ian Somerhalder are still responding because they've included the numbers in their Instagram bios as well.