Calum Von Moger(Generation Iron) has responded to Nicola Segura's DNA Paternity test claims on the Kenny KO YouTube channel. Mr. Universe (2014-2015) says that he requested the DNA test but Kenny Boulet thinks that the Australian actor/bodybuilder is not being a 100 percent honest. Von Moger has also accepted that he, in fact, is the father of the child (Kyros) and that's commendable.
Calum Von Moger son, DNA Paternity Test and response to Kenny KO Interview
Calum Von Moger(Generation Iron) response video sheds light on the claims(with proof) made by Nicola on Kenny KO's YouTube channel. Bigger (2018) actor and Mr. Universe, Von Moger, says that it was he who suggested having a DNA Paternity test. He starts off by telling the world that the child in question is his and I respect him for doing so.
I'm gonna tell you now that I am a father and yes, I have a son.
Calum Von Moger than talks about the paternity test and claims that he requested it.
I did what any normal guy would do and asked for a DNA Paternity test to make sure the child was mine.
Kenny, however, is not buying that and thinks Calum Von Moger's response is nothing but a bunch of lies. According to Boulet and the text messages between, Calum never requested the test.
I'm confused Calum, because you never reached out for the paternity test. It was the baby mama who wanted it and you declined.
Kenny was referring to the text messages between Segura and Calum Von Moger. The contents of one particular message can be seen below.
F@/k this. You're doing this all for yourself. Don't bother me again. You can be a single mum and raise it on your own.
Kenny KO also mentions that Generation Iron was supposed to release the video on Calum Von Moger a long time ago and for some reason, they did not. That's when he felt it was time to share this with the world.
Is there a Beef between Generation Iron and Kenny KO?
Now, I am not really sure if there's any beef between the two but the whole Calum Von Moger controversy has brought another issue in the spotlight as well. Kenny Boulet was associated with the company for 2 plus years as an author and this is what Generation Iron website says about the controversial YouTuber.
Get your daily news around the fitness community with Kenny KO. Kenny is a physique competitor and fitness enthusiast who creates opinion based videos that revolved around the current breaking news and trends in the bodybuilding and fitness industry. His number one goal: keep everything 100% honest.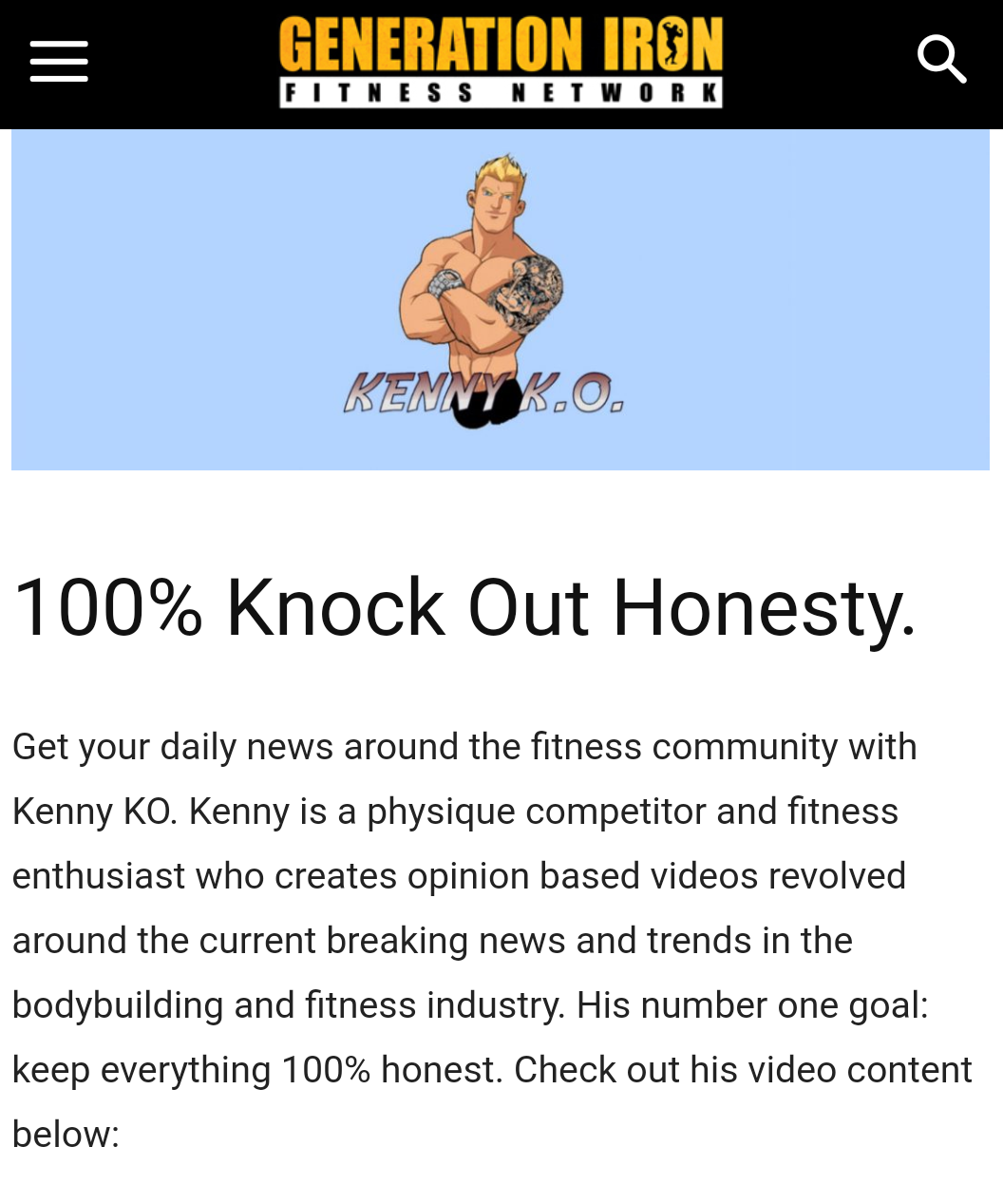 The interesting thing, however, is that amid this recent controversy, Generation Iron released an article in support of Calum Von Moger and labeled Boulet as a blogger who spreads false rumors. Now that's interesting.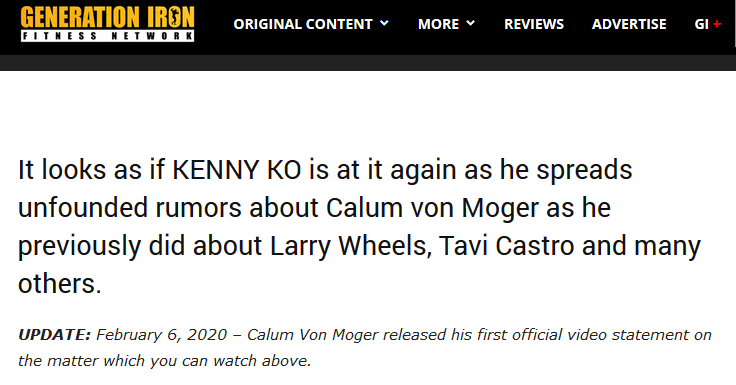 Right now it looks like Generation Iron and Calum vs Kenny Boulet. Let's see if the situation cools down or gets even worse. We'll have to wait on this one. Dankanator will keep you updated.