Even though Bryce Hall turned 21 a few days ago, he is still facing the aftershocks of adult age. We all know that the original Sway House boys have split into multiple groups now. Jaden Hossler and Josh Richards are living together, where Jaden is working on his music and Josh is working on his business deals. Meanwhile, Griffin Johnson has a separate house now that's known as Sway Gaming House. The people living there are more focused on their workouts and gaming sessions. That leaves Bryce Hall, Blake Gray and Noah Beck together. After LA authorities cut off electricity and water supply to the Sway House in Hollywood Hills, the trio had to think of a quick solution. And, turns out they were able to find a new place for them pretty soon. Though they have moved to the new place, their ex-neighbors still have a lot of grudges.
Bryce Hall's ex-neighbors open up about the troubles they faced when they had Sway House in the area
Recently, DailyMail.com shared a piece on the Sway House, and what the neighbors have to say about them. Bryce Hall, Noah Beck and Blake Gray recently moved to Hollywood Hills house. The neighbors confirmed to DailyMail that Sway House moved to the area at the beginning of August. The rented $8.2 million mansion was turned into a "warzone" by the Sway boys. They had been hosting parties every week. One of them had 100+ guests when everyone was celebrating Bryce Hall's 21st birthday bash.
Even though Bryce Hall now confirmed that the party was not supposed to be that huge, he did not stop people from joining his party. In fact, he did kick out a few selective guests from the party. But other than that, the party was still breaking all the imaginable SOPs. Following the complaints, Mayor of LA authorized the supply cut of power and water.
DailyMail has shared some really troubling details about the whole event, as well as other parties. Moreover, they also highlighted that Sway House is not what it seems to be. Someone reported to LAPD that they heard gunshots at a party hosted by Bryce Hall and the boys.
S*x in the cars, defecating & urinating on the roads, and more
Apart from hosting loud and noisy parties and breaking the code of social distancing, Bryce Hall and the boys have also been accused of having s*x in the cars on the road, defecating and urinating on the roads as well as smoking marijuana in the huge fire risk area.
Many neighbors have reported that Sway Boys were mostly wasted and high while they were out on the roads. They'd also block the roads during their parties with large number of cars parked on the road, blocking the path. In case if there was an emergency, the ambulance would never have made it.
Bryce Hall has been confirming in his latest interviews that he and the boys have shifted to a new house now. The location of the new property is not disclosed yet. However, Hollywood Hills is reported to be still under the lease due to Temporary Eviction Moratorium in LA.
There are also reports that citations have been issued to the Sway House, and this might lead to their end of contract with TalentX.
Is Bryce Hall getting arrested….again?
There are also speculations that Bryce Hall and Jaden Hossler might be getting arrested. In a long thread shared by Dennis Feitosa (Def Noodles) on Twitter, after his previous arrest. Bryce Hall was bailed out on the condition that he will not do anything illegal again.
Following that arrest, Jaden Hossler and Josh Richards immediately moved out of the Sway House. However, sources now claim that they are being forced to join hands with Sway House again.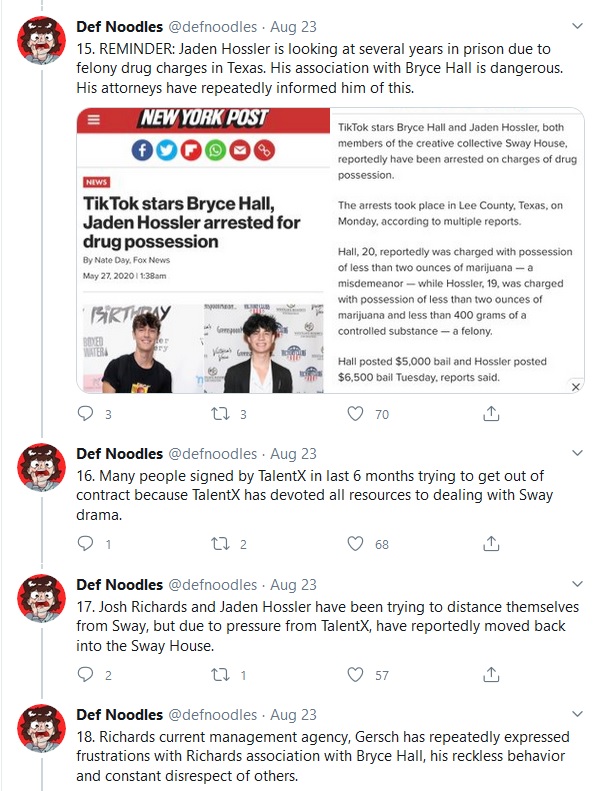 In his latest vlog, Griffin Johnson confirmed that Bryce Hall, Noah Beck and Blake Gray have moved to a new house. He also showed a brief look of the house. Will they share a house tour video? That's doubtful considering the circumstances that made them move out of their rented home.
Apart from every thing they have done wrong, some people still need to think before they react to the Sway House. Yes, the fans want them to apologize. However, wishing Bryce to be dead is crossing the limits.