There were many Oscars hosts in the history of the Oscars. After an Oscars night as wild as last year's, it's hard to imagine how the Academy Awards could top itself. Will Smith was an Oscars host who stole the show with his unexpected theatrics, but we can't forget about the outstanding hosting performance of Regina Hall, Amy Schumer, and Wanda Sykes.
Well, last year's Oscar ceremony was a total flop! Will Smith's 'slap heard round the world' had Academy officials completely stumped – they didn't know how to respond when Smith smacked Chris Rock right in the face!
But Chris Rock sure knew how to handle it – his quick-witted comebacks defused the situation in a flash, proving that even in the face of a shocking and unexpected outburst, he's got your back!
Finding the perfect fit for the job of the Oscar host? It's no walk in the park! You've got to have the whole package – comedy chops, TV presenting skills, and big-screen star power – and there's no guarantee it'll all come together. Plus, let's face it – if the host isn't up to snuff, the whole show is going to suffer!
When it comes to awards shows, it's all about the host. From Bob Hope to Billy Crystal, these legendary hosts have elevated award nights beyond the winners and losers. In fact, the host-less format was so successful that the 2020 and 2021 ceremonies have gone without one.
Even the 1989 ceremony, which featured a disastrous opening number with Rob Lowe and Snow White, went down in history as having no host. Clearly, the awards show host is an incredibly important part of the night's festivities!
Oscars night wouldn't be complete without a charismatic host to bring the show to life. Let's take a look back at five of the all-time Oscars best hosts, who truly made the night shine!
The 6 Best Hosts | Oscars
6. Jon Stewart
Jon Stewart is one of the best Oscars hosts. When Stewart hosted the 2006 Academy Awards, the reception was…lukewarm, to say the least. But he got a second chance in 2008 and he didn't disappoint! His jokes were clever and well-delivered, and he knew when to step back and let others take the spotlight.
His most admirable moment of the night, though, was when he invited Marketa Irglová back on-stage to finish her acceptance speech for Best Original Song after being cut off. Now that's what we call class!
5. Whoopi Goldberg
Whoopi Goldberg made a triumphant entrance onto the Oscars stage, becoming not only the first African American person to host but also the first woman to do so – and she definitely left her mark!
Whoopi Goldberg is also among the best Oscars hosts. After winning an Oscar for her role in Ghost, she charmed audiences with her spectacular costume changes and witty one-liners. Through her four hosting stints, she also showed her skill at handling difficult topics, such as when Schindler's List won Best Picture and the first ceremony post-9/11.
After the recent Kevin Hart scandal, Whoopi even threw her name in the ring to host the 2019 ceremony – now that's what we call a true star!
4. Ellen DeGeneres
When Ellen DeGeneres hosted the Oscars in 2007, she wasn't exactly met with a parade. But when she returned in 2014, she certainly made it a night to remember. She kept the laughs coming but kept it tasteful and respectful.
And then, she did the unthinkable: a star-studded selfie live on air! Bradley Cooper, Jennifer Lawrence, Brad Pitt, Angelina Jolie, Meryl Streep, and Julia Roberts – all in one shot!
It was a moment for the ages, and the tweet quickly became the most popular of all time – with over 3.3 million retweets! It is truly a night to remember.
3. Billy Crystal
Billy Crystal is also a very good host. He truly revolutionized the role of Oscars host back in the early 90s! His energetic personality and showmanship made him the perfect entertainer, and he was even asked to come back five times.
He was definitely not afraid of a little self-promotion, as he famously rode offstage on a horse at the 1991 awards to promote City Slickers.
After James Franco and Anne Hathaway's less-than-stellar hosting job in 2011, Billy was brought back for the 2012 Oscars to bring some much-needed steadiness to the show.
2. Bob Hope
Bob Hope is #2 on our list of the best Oscars hosts. For decades, Bob Hope had us all in stitches with his comic genius at the Oscars. He charmed us with his suave one-liners 19 times between 1940 and 1978, and when it came time for the 50th Anniversary, he was the obvious choice to host.
Jack Lemmon even presented him with a unique gold medal for his services to the Academy during the 1966 Oscars, to which Hope replied, "anyone that wants to look at this can come to my place and it'll be in the shrine." Now that's what I call a truly golden moment!
1. Jimmy Kimmel
It looks like Jimmy Kimmel is in for a wild ride this year! The Academy asked him to host the Oscars 2023 (for the third time) – and let's be real, it's only because everyone else said no.
But hey, he's taking it in stride! As Kimmel quipped, "Either way, I'm grateful to the Academy for asking me so quickly after everyone good said no." Of course, he's got the support of his wife Molly McNearney, who's the co-head writer of Jimmy Kimmel Live and has written for the Emmys and Oscars multiple times.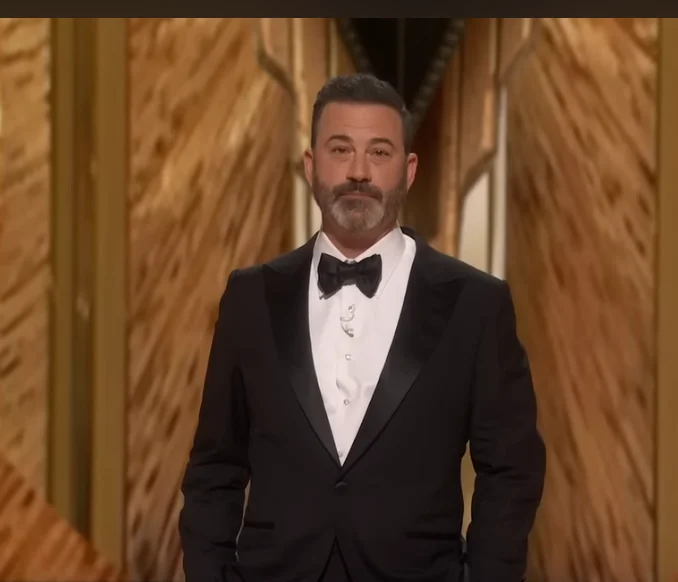 With Glenn Weiss and Ricky Kirschner as executive producers, and Molly as a fellow EP, Kimmel is sure to put on a show!
The 5 worst Oscars Hosts
5. David Letterman
David Letterman is one of the worst Oscars hosts. When Dave Letterman tried to bring his popular late-night humor to the Oscars, it didn't quite translate. The usually reliable presenter tried to break the ice with a joke about two actresses with similar names – "Oprah. Uma. Oprah. Uma. Oprah. Uma. Have you kids met Keanu?" – But it fell flat.
A few later jokes also failed to elicit laughter, and the New York Times even criticized Dave for leaving the ceremony's pacing in shambles. Ah, live and learn!
4. Chevy Chase
"Good evening, Hollywood! I'm sure you all know who I am, but in case you don't, it's Chevy Chase here! "Awkward silence from the audience". "Yeah, I feel yaw. It's 1988, the writers' strike is in full swing, and here I am, donating this Oscar monologue courtesy of FIVE teamsters".
"More awkward silence", I guess I should get to the jokes, huh? Let's see, I've got a bit about film critics that I'm sure you'll love… or not. "Crickets all right!" looks like I got to go off-script here and improvise my way out of this. Here goes nothing!
3. Walter Matthau, Liza Minnelli, Dudley Moore & Richard Pryor
In 1983, the Academy decided to shake things up and give the hosting role to the unlikely quartet of Matthau, Minnelli, Moore, and Pryor.
Little did they know, this would result in one of the most awkward Oscar clips of all time: the four actors standing in a straight line, arrhythmically swaying to the opening number.
Minnelli's attempt at humor with a joke about the three others still "rehearsing" backstage did nothing to save the disjointed and forgettable evening. Let's just say, it's a night no one will be forgetting anytime soon!
2. Seth MacFarlane
Seth MacFarlane is #2 on the worst Oscars hosts list. When Seth MacFarlane was given the honor of hosting the Academy Awards in 2013, he was determined to stay true to his notoriously low-brow comic sensibilities. And, boy, did he deliver!
A cringe-inducing song-and-dance number calling out actresses who had done topless scenes – aptly titled "We Saw Your B-obs" – left the audience with a mix of awkward smiles, embarrassed silence, and a whole lot of criticism.
Fast forward six years, and in the wake of #MeToo, it's hard to believe that such a sleazy routine ever made it to the Oscars stage. But hey, the Academy must have liked it, because they asked him back to host the next year. Talk about a wild ride!
1. James Franco and Anne Hathaway
James Franco and Anne Hathaway were also among the worst Oscars hosts of all time. The Academy thought they could create a winning combination by joining forces with James Franco and Anne Hathaway for the 2011 Oscars. Unfortunately, it was a match made in awkwardness-heaven, with Anne's overly chirpy attitude not sitting well with Franco's off-kilter grins.
The two were a mismatch, and their lack of chemistry resulted in a cringe-worthy experience that resonated with no one. Audience members were baffled by their jokes, and Franco's drag skit was met with an unenthusiastic response. Talk about an Oscar fail!