Bella Hadid spent her Saturday in Bay Ridge, Brooklyn, speaking out in support of Palestinians in Gaza. She wore a keffiyeh and waved a Palestinian flag as she joined a gathering of tens of thousands. Later, supermodel Bella Hadid wrote a caption that sparked debate as well as ire from all around the world, especially Israel. Photographs and videos from the march, which lasted several hours and eventually shut down traffic on Interstate 278. They were captioned "From the River to the Sea – Palestine Will Be Free," which is a seemingly innocent phrase.
Israel was not happy with Bella and Gigi Hadid marching for Palestine
However, according to Israel's official Twitter account, a tweet was posted on Sunday that shared a photo of Bella Hadid at a pro-Palestinian march in New York. Furthermore, the supermodel was accused of promoting "throwing Jews into the sea."
The Hadid sisters have been active on social media, showing support for Palestine and encouraging people to help. While also denouncing the US government for providing military aid to Israel. This isn't the first time, however, the Hadid sisters have shown vocal support for the cause.
There is no footage from Hadid's social media accounts that shows her threatening Jews in any way. However, the official Israel Twitter account clarified that it was referring to videos of the supermodel repeating the decades-old phrase "Palestine shall be free from the river to the sea."
Palestinian activists all over the world have used this chant
Palestinian organizers have long claimed that the phrase is a chant in support of Palestinian people living within those borders' human rights and self-determination. It refers to the River Jordan and the Mediterranean Sea, which mark the geographic and political limits of Israel. The chant is labeled antisemitic by Israel. This, in result, interprets it as a call, for the state of Israel to be abolished.
However, Bella Hadid is adamant in her support for Palestine.
In her Instagram post, she wrote:
it has always been #freepalestine . ALWAYS. I have a lot to say about this but for now , please read and educate yourself. This is not about religion. [And] This is not about spewing hate on one or the other.This is about Israeli colonization , ethnic cleansing , military occupation and apartheid over the Palestinian people that has been going on for YEARS!

I stand with my Palestinian brothers and sisters , I will protect and support you as best as I can – And I cry for you. I wish I could take away your pain. The pain of a father not being able to hug his wife or babies again. Of a mother who has to bury her child before she has the chance to watch them grow. Of children that are future artists , doctors , that will never be able to get the education or attention they deserve. To the Tetas and jidos that have built homes for their families , that they will never be able to live in again.
Gigi Hadid also reacted to the accusations of being anti-Semitic: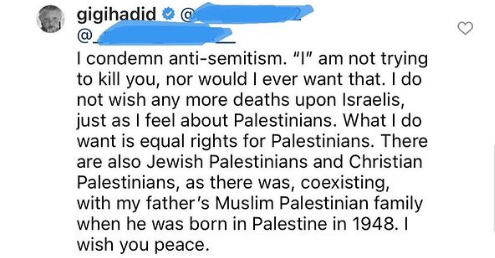 Unrest continues between Palestine and Israel
In the preceding seven days of continuous bombing, Israeli soldiers carried out what the New York Times dubbed "the single bloodiest bombardment yet on Gaza". At least 33 people got killed, 50 got injured during Sunday morning's attacks in The City Of Gaza. According to reports, 12 Israelis have been killed as a result of the rocket firing.
However, since Monday, when long-standing tensions between Israelis and Palestinians erupted, the death toll of Palestinians is rising. At least 192 individuals (including 58 minors) in Palestine have died. Israeli police raids on the al-Aqsa Mosque in Jerusalem, protests against the impending displacement of Palestinian families. And increased brutal policing of Palestinian Muslims during Ramadan have all contributed to the recent escalation.
Bella Hadid and Gigi Hadid are a few of many celebrities that are speaking out against the injustices which are taking place.