Donald Trump is still not ready to accept the results of the 2020 Presidential US Elections. Joe Biden has clearly won the popular vote as well as the electoral vote. However, Trump just isn't coming to terms with reality. And that can massively threaten American democracy. As a result, Americans are now starting to come out on the streets, demanding his removal from the White House and to stop him from making any attempts to steal the elections. And now, actor/activist Alyssa Milano, World famous intellectual Noam Chomsky, and Matrix director Lilly Wachowski have joined the protest.
Related: Alyssa Milano Reveals She Used To Admire Ivanka Trump!
These three famous names have signed a full-page advert published in the New York Times on Monday, the 9th of November. The organization 'Refuse Fascism' is behind the advert, and it came shortly after Trump refused to accept the results of the elections. Regardless of Trump's refusal, Joe Biden is set to become the President on his inauguration on January 20th, 2021. However, the advert calls for Trump's removal sooner than that. And now, the advert has Alyssa Milano, Noam Chomsky, and Lilly Wachowski's signatures as well.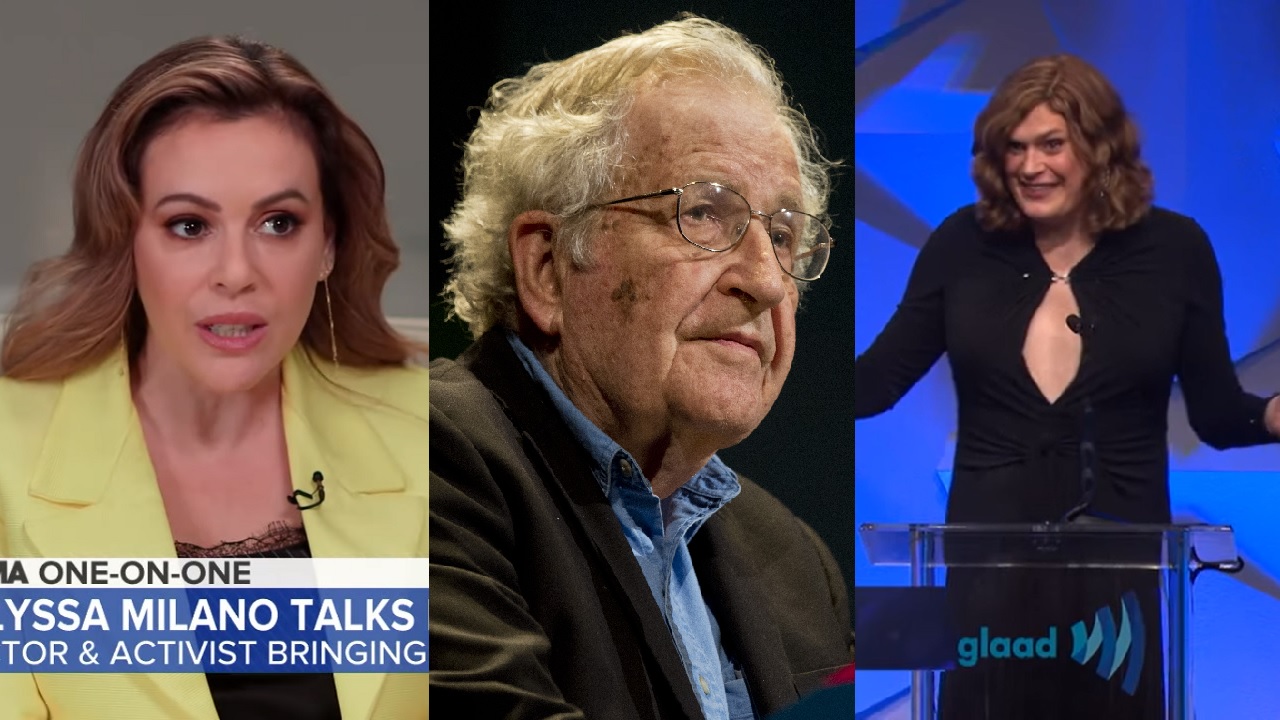 Milano, Chomsky, and Wachowski join in with the effort to kick out Trump and Pence from the White House
The advert, titled "A Pledge to the People of the World", warns that Trump is trying to "steal" the election. And Trump's campaign began doing so by beginning legal proceedings in an attempt to derail Biden's win. Since Alyssa Milano has been a vocal supporter of Joe Biden through thick and thin. And that Noam Chomsky has clearly labeled Biden as the lesser of two evils, they signed the advert. By doing so, they extend their full support for Trump's early removal from office. The poster reads:
We demand Trump/Pence out now! We will not stop until they're gone.
Furthermore, the advert also adds among its objectives:
We do not comply with a regime: putting targets on the backs of Black, brown and Native people; denying women control of their bodies; forcing LGBTQ people back into the closet.
Related: Alyssa Milano Says Trump Brutalized Protesters For A Photo
Moreover, co-author Andy Zee also added:
We placed this ad just when Trump is ramping up outrageous legal challenges to the election; is marshaling his loyal Republican forces in the Federal and State governments, up to the Supreme Court, now packed with 'his' judges. Stealing an election gets to the core of a fascist power grab and we refuse to live in a fascist America.
Related: Alyssa Milano Wants To Defund The Police Too
Other than this movement, Alyssa Milano and Noam Chomsky have also previously supported Bernie Sanders and his failed efforts for socialism and progressive policies in the United States. Even though his campaign failed, Sanders managed to bring public welfare into public discussion in a country that is still scarred by the red scare.
Related: Did Bernie Sanders Really Fail? Noam Chomsky And Alyssa Milano Disagree