The Bradisson fans were very unhappy to see Bryce Hall jumped over by the strippers on his 21st birthday. Bryce Hall and Addison Rae have an on-again-off-again relationship that's off these days. Even though they were not really in a relationship at the time of his birthday, people expected Bryce to stay loyal to Addison and win her back. However, some of his friends surprised Bryce with strippers grinding all over him. The video clips went viral and Addison was not happy to see it. She took a 1-day break from the social media and spent her time with her friends, including David Dobrik. The next day, Paparazzi found her and asked her to comment on Bryce Hall's birthday party.
Addison Rae does not want to talk about Bryce Hall….or his birthday
Addison Rae did not attend Bryce Hall's 21st birthday party. She might be trying to stay away from the whole drama. However, the next morning was not good for her. Addison woke up to hundreds of notifications from her fans, tagging her in almost every other post about Bryce Hall's birthday party. Many fans commented that she deserves someone better than him.
Many fans also believe that Addison took a break from the internet for the day because she was hurt after seeing the birthday posts. The next day, she tweeted about needing hugs.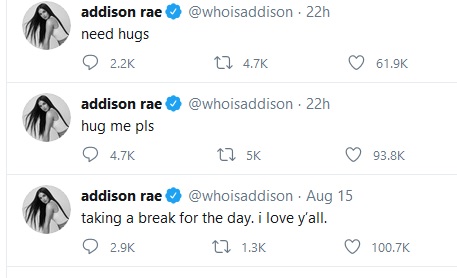 During the break, Addison Rae was seen in David Dobrik's Instagram stories where she was boxing with his best friend Ilya.
The Hollywood Fix tried to talk to Bryce Hall the day after his birthday. However, he did not comment on Addison Rae, or everything that went down on his birthday. He also refused to comment on his new merch. In fact, Bryce Hall said he wants his privacy right now. On the other hand, Celebrity Livin tried to talk to Addison Rae while she was out for lunch.
The Hollywood Fix: Bryce's birthday party! There is a lot of drama going on about that. Were you at the party?

Addison Rae: No, I wasn't.
When asked if she had seen videos of strippers dancing on him, Addison said:
I don't feel comfortable talking about any of that. I'm sorry.
Seems like they will not be talking about it for now. We respect their privacy and expect Bradisson fans to do the same.