Addison Rae finally made a comeback on social media after being MIA for almost a week. She used too much tan in a recent photoshoot. And fans accused Addison of blackfishing in her last TikTok video. Maybe this is one of the reasons why she took some time off social media for almost a week.
But now Addison just made an appearance on Twitter with a public apology. As everyone was expecting her to make one after an old video of hers started circulating on the internet in which she used the 'N' word. And an old tweet regarding 'All Lives Matter & Black Lives Matter'.
History of Addison Rae's controversy
A couple of days ago Addison posted a video on her TikTok from a recent photo shoot in which she has used tan more than usual. As we all know a lot of fashion icons are using tan spray these days.
Though, fans started bombarding questions on Addison's video and said that she is blackfishing. Consequently, Addison removed the video without saying anything and went MIA. She was offline on all her social media accounts.
Then things got a little worse when a renowned influencer Danielle Perkins posted an old tweet of Addison in which she is saying 'All Lives Matter & Black Lives Matter'. And he also shared a very old video in which Addison is saying the 'N' word. But as per Addison's friend, 'Kio Cyr', who is also in the video says otherwise. He takes Addison's side and claims she did not say the racial slur.
Bryce Hall who is Addison's rumored boyfriend came to her rescue when fans started questioning the reason for her absence from social media and mentioned that she is okay.
Addison Rae releases an apology statement
To all the fans out there who have been worrying about Addison's health, should know that she is all right. She just took some time off from social media.
Addison also posted this apology message on her twitter to clear out all the accusations.
"I owe all of you an apology. Four years ago I reposted a video which included a woman sharing her thoughts on Black Lives Matter and All Lives Matter that I should not have. Because of my privilege, I didn't understand and wasn't educated enough on the social injustices facing the Black community."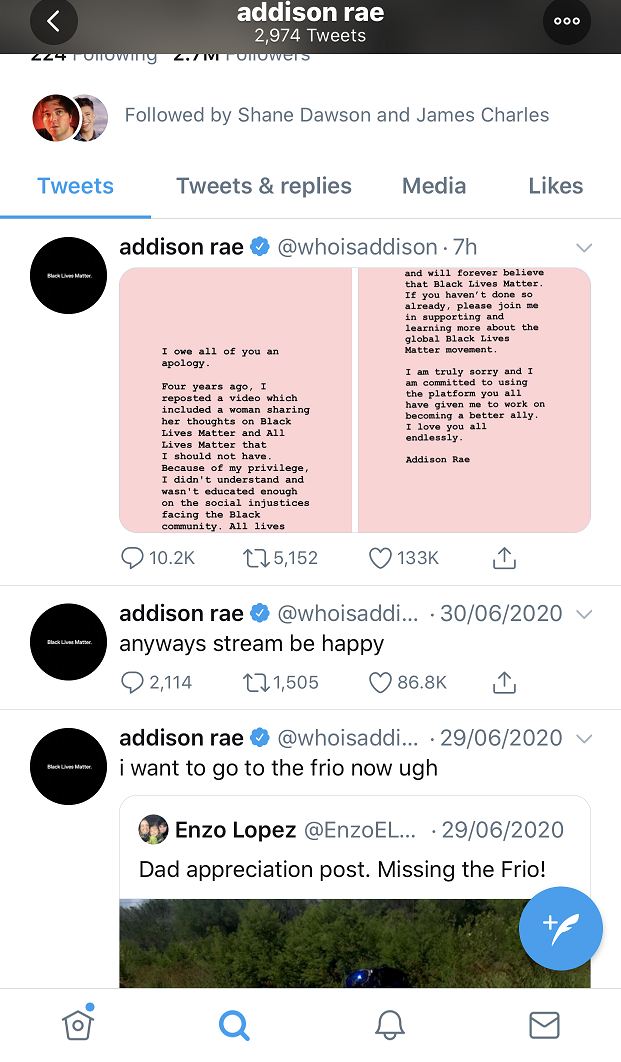 She further added that:
"All lives CANNOT matter until Black Lives Do. The Black community was and continues to be oppressed and damaged by systematic racism…If you haven't done so already, please join me in supporting and learning more about the global Black Lives Matter movement.

I am truly sorry and I am committed to using the platform you all have given me to work on becoming a better ally. I love you all endlessly. Addison Rae. "
Let's see if fans are going to accept her apology or not. With her huge following, it's commendable to see her take actual accountability and learn from her mistakes.