Fans are still wondering why Drake's son looks nothing like him!
The news of Drake's son took the world by storm. Recently, Adonis accompanied his father to Billboard Music Awards, making his first public appearance. However, fans have been speculating as to why does the child looks nothing like his musician dad.
Born to a French mother, Drake's son was kept a secret for 2 years
Until 2020, Adonis Graham was hidden from the media. He was born in 2017 and lives in Paris, France with his mom, Sophie Brussaux, who is a retired porn star. Reportedly, she met Drake in January 2017 and got pregnant immediately. However, she claims to have received texts from the rapper to get an abortion. At the time, Drake's rep said:
If it is, in fact, Drake's child, which he does not believe, he would do the right thing by the child.
Eventually, he did admit that Adonis is in fact his son.
Related: Drake shocks the world by sharing son's photos for first time
There have been several instances when the rapper made references about his son in his music
Interestingly, there are many songs that have hints about Drake's son. Adonis' middle name is Mahbed and some fans speculate that the rapper's superhit song, God's Plan has a mention in it. According to some fans, the lyrics, "I only love my bed and my mama," refer to his son. In 2018, Pusha T released a song, The Story of Adidon, dissing Drake for keeping a secret. On the other hand, his album, Scorpion, was Drake's way of announcing that he is a dad. At the same time, in his album, Emotionless, Drake sings, "I wasn't hidin' my kid from the world / I was hidin' the world from my kid."
Related: Nicki Minaj And Drake Were Seen Hanging Out Together!
But the question stands, why does Drake's son look nothing like him?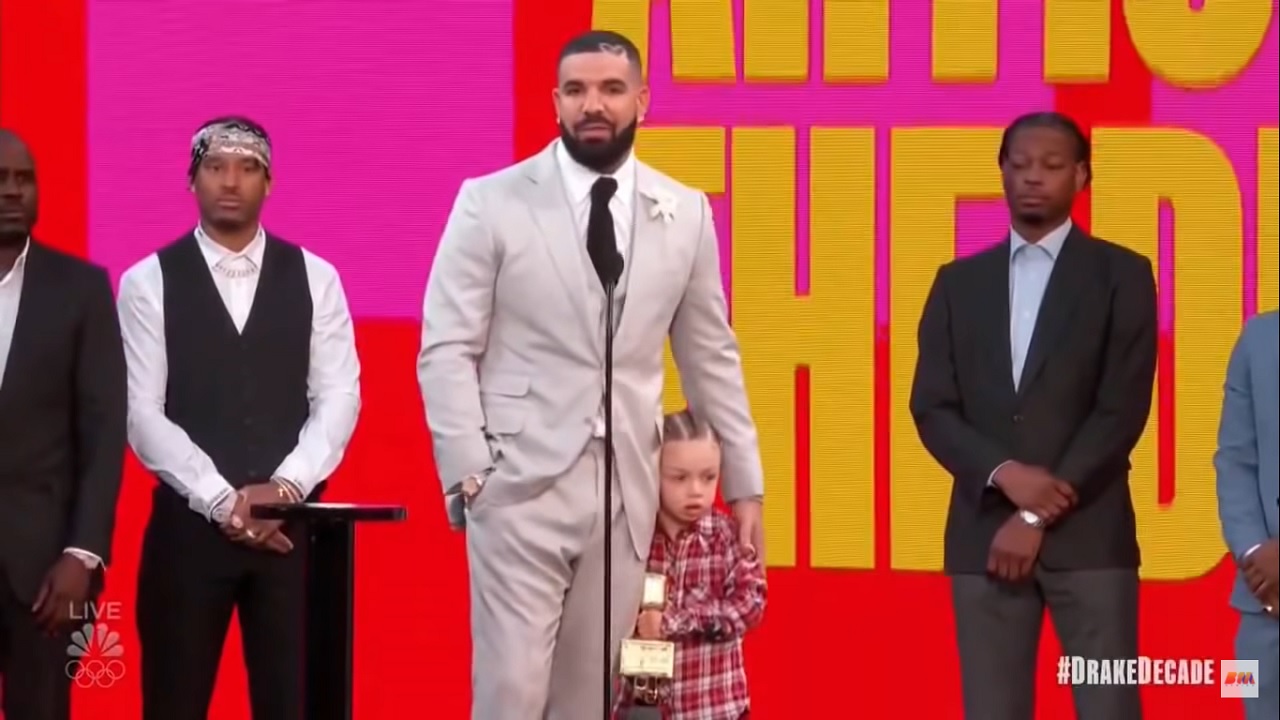 Since Drake's son attended the BMA with his dad, people have again started speculating about his identity. There are a lot of questions about how the father and son duo do not look alike. Obviously, Twitter had a lot to say about it. While some wanted them to be left alone, others expressed their curiosity through memes.
Meanwhile, Adonis' mom, Sophie, responded in a hilarious way. She posted an edited picture of the three together, where she and Drake also have blonde hair. Sophie wrote:
Thanking God everyday for blessing me with such a beautiful family and amazing friends. I wish that much on everyone, keep safe and positive, sending a lot of positive vibes to the world. PS : all this time you thought @champagnepapi was dark-haired…but Adonis's parents are really blonde.
While these are all speculations, there's no denying that Drake and his son share a special bond. And if Drake does truly have blonde hair, then that would explain a lot about his son.
Related: Drake's Son DOESN'T LOOK like him; Reason Revealed!