Sway Boys are back with their girlfriends
or ex-girlfriends?
The stans won this time. Halloween 2020 brought many people together, mostly for the Halloween parties amidst pandemic. The spooky holiday also brought together Sway Boys with their ex-girlfriends. Well, most of them, excluding Griffin Johnson. The Sway couples followed the "couple costumes" and surprised their fans. Let's have a look at them going official again, and their halloween looks.
Sway Couple 1: Bryce Hall & Addison Rae
The Bradisson shippers had been wanting Addison Rae back with Bryce Hall for quite some time. Their on-again, off-again relationship did not deter fans from shipping them together. Addison & Bryce took a relationship break for a few weeks and them getting back together seemed impossible at one time. However, 2 weeks back, Bryce appeared in Addison's vlog. The vlog showed them working out together at Dogpound. Since then, both have been seen together multiple times.
Apart from appearing on each other's vlogs during the last 2 weeks, Addison Rae and Bryce Hall opted to dress up as the famous Joker & Harley Quinn couple for Halloween. They were also spotted kissing during and after a dinner by the tabloids. Just recently, Addison and Bryce kind-of confirmed they are back together.
View this post on Instagram

crazier
View this post on Instagram

J + H
Griffin Johnson has also been teasing the tabloids by stating that he is being the third wheel whenever Bryce and Addison are together.
Sway Couple 2: Josh Richards & Nessa Barrett
The couple of besties, Josh Richards and Nessa Barrett have confirmed that they are not "back" together as a couple. However, they are closest friends and dressed up as Halloween couple this year. The Jessa shippers do not believe for a second that there is nothing going on between these two. Even Josh's podcast co-host Dave Portnoy called them out on their body language.
In their podcast's latest episode, Josh and Dave had Nessa Barrett as their guest. And Dave asked about their relationship throughout the episode. He said that even if they are not together, they are giving the friends-with-benefits vibes.
Nessa and Josh dressed up as a vampire couple for the Halloween.
View this post on Instagram

last night – happy halloween
But that was not their main look. The main look was Nessa dressed as Malaria, and Josh dressed as Grim Reaper.
View this post on Instagram

death behind the wheel
Josh Richards's makeup was on-point.
Sway Couple 3: Jaden Hossler & Mads Lewis
In an another confusing turn, Jaden Hossler and Madison Lewis are back together. Probably as a Halloween couple for now, but they are still confusing their fans.
Jaden Hossler dressed up as a shirtless Sheriff Woody and Mads Lewis as Bo-peep for the Halloween.
View this post on Instagram

the end of toy story 4 happy halloween
Mads has not shared any picture with Jaden on her Instagram. However, she is posting pictures on her Instagram stories, and sharing Jaden's posts on her IG stories as well.
On the other hand, Jaden Hossler is pretty vocal appreciating Mads and her good looks.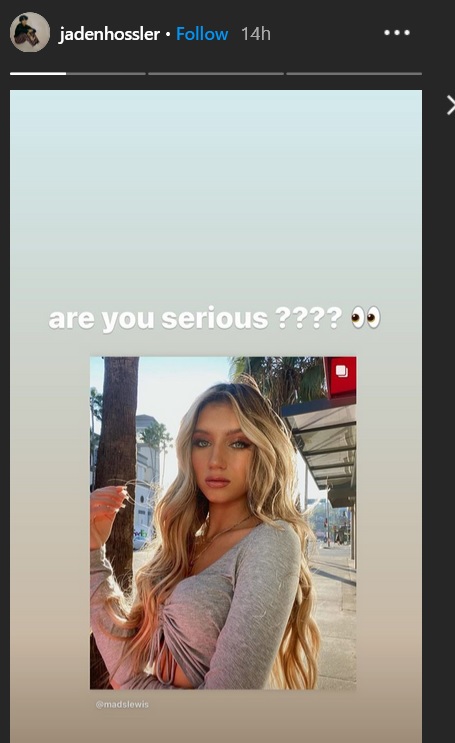 Sway Couple 4: Noah Beck & Dixie D'Amelio
Noah Beck and Dixie D'Amelio have not broken up. Dixie sent her fans into a frenzy when she tweeted that she is single. The fans could not believe that Dixie would break up with Noah after confessing that she loves him.
View this post on Instagram

New tweet by dixie
Turns out, Dixie was just joking and she was promoting Bryce Hall's next vlog.
View this post on Instagram

#dixiedamelio responds to a comment
Griffin Johnson on "cuffing season"
Winter is coming and it's officially cuffing season. However, Griffin Johnson is tweeting about it in a casual way. Even though his friends are "back together" as stated by him, he is enjoying his single life. In fact, he is being the official third wheel in every relationship cycle for the Sway Boys. (except Noah Beck's).
why didn't anyone tell me it was cuffing season

— Griffin Johnson (@lmgriffjohnson) November 3, 2020
i am now referred to as "tricycle"

— Griffin Johnson (@lmgriffjohnson) November 3, 2020
He also confirmed that he is not really worried about the cuffing season. Griffin was just teasing his friends for their Halloween looks:
my tweet was me going through my entire instagram feed of all my friends halloween pictures

— Griffin Johnson (@lmgriffjohnson) November 3, 2020