Holidate was one of the first movies to premiere from Netflix's holiday lineup. And this Emma Roberts starrer was much anticipated solely because it was a romantic comedy.
I'll admit, I was also one of the first people to watch Holidate. However, upon watching, I came across a few problematic things in the movie that kind of left a sour taste in my mouth.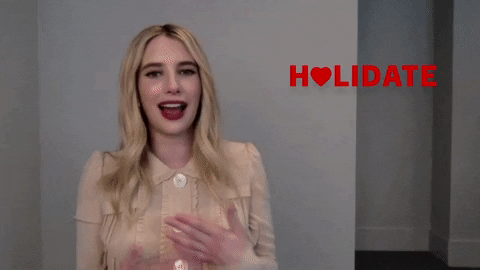 Oh and if you have not watched it, there are many spoilers ahead.
Why Holidate Was Low Key Problematic
First off, what is up with unrealistic romantic comedies and forcefully making them realistic? For example, Sloane, played by Emma Roberts, made a big deal about seeing people in movies kiss when they have just woken up. Apparently, she found it gross but then proceeded to do it anyway. Because how else will you make a rom-com? The writers just tried really hard to make it realistic and then continued making it the cliché rom-com. But I suppose that's what the people like.
However, this was not necessarily a problematic thing about Holidate, instead, an annoying one. I just thought I would start off easy.
Coming on to the really serious stuff now. You remember how Sloane's sister kissed a guy at the Halloween party? She then came home and when her husband found out, she blamed it all on him. And you know what his fault was? He stayed at home too often to watch the kids because she would not care enough to do that. So naturally, she had a problem with him not going anywhere with her. And that is how she justified her cheating.
However, the sad part is, not only did she justify her cheating but her husband, the one who got cheated on, believed that it was in fact his fault that she put her tongue in someone's mouth and ended up apologizing to her. I mean, what kind of crap are movies showing today's generation? It's no wonder everyone is turning out with the wrong values and morals. Generalizing things like cheating, victim-blaming, and gaslighting has become so common, it's just not a big deal anymore when a person does something bad.
There's More
Moreover, Holidate's lead, Sloane had really bad habits, we all saw that. She smoked, she ate compulsively whenever she met a slight inconvenience and she could not let anyone in. Okay, we get it, the character is supposed to be a little messed up. But why did she have to pull her Australian love interest, Jackson, played by Luke Bracey, into all these bad habits with her? Luke was an athlete and avoided chocolates. I mean, yes, chocolates are not bad for you. But eating candy as Sloane ate could not have been healthy for anyone. And even though Jackson refused to indulge in binge-eating candy with her, he got roped into doing so right in the next scene. And not only that, but he also said no to smoking, yet was convinced by Sloane to smoke weed when he blew his finger. It was almost like all these bad habits were glorified and encouraged. That you cannot live your life without indulging in them.
And lastly, a thing that downright pissed me off. Sloane is meant to be a messy girl who does not have her life together. Yet rather than looking unkempt, she always has perfect hair and perfect makeup. And you know the perfect way to portray that she does not have her life together? Put her in a hoodie!
All in all, Holidate is a fun watch but I would suggest writers pay a little more attention to the kinds of movies they are writing these days. Not only is it important to stay relevant and be relatable for everyone, but it is also important that these movies send out the right message.