Charli D'Amelio Talks About Her Nose Surgery
Charli D'Amelio is one of the top content creators on TikTok with a massive amount of following. This 16-year-old beautiful girl first posted her Tiktok video last year. And since then fans have showered her with a lot of love and respect. Charli has about 72.9 million followers on her Tiktok account and more than 5.2 billion likes.
Recently, Charli posted a post-surgery video on her Tiktok and left fans in a state of shock.
Charli D'Amelio explains why she got a nose surgery
A lot of fans started judging the TikTok star when she posted a couple of videos on her social media. You can clearly see her nose is covered with a bandage and it is bleeding. And her eyes are pretty much swollen and bruised.
So some fans, without even thinking, started bombarding her social media with comments like 'you are getting a nose job'. And some other weird stuff which I don't really feel like mentioning here. We all know how Charli was made a part of the huge drama recently created by ex-boyfriend Chase Hudson.
Anyways, Charli mentioned in a tweet a couple of months ago that she is having serious breathing issues. She was supposed to have surgery last year in November. Because she broke her nose and lost sense of smell from both the nostrils. It was getting really hard for her to breathe normally. And she has finally got her breathing issues and broken nose fixed through rhinoplasty.
Charli tweets about taking a break from social media
This girl is literally giving us some major patience & courage goals. She was not feeling well because of nose surgery. And both of her eyes were also bruised and swollen because of the surgery. But she still managed to put a huge smile on her face and post a few TikTok videos for her fans.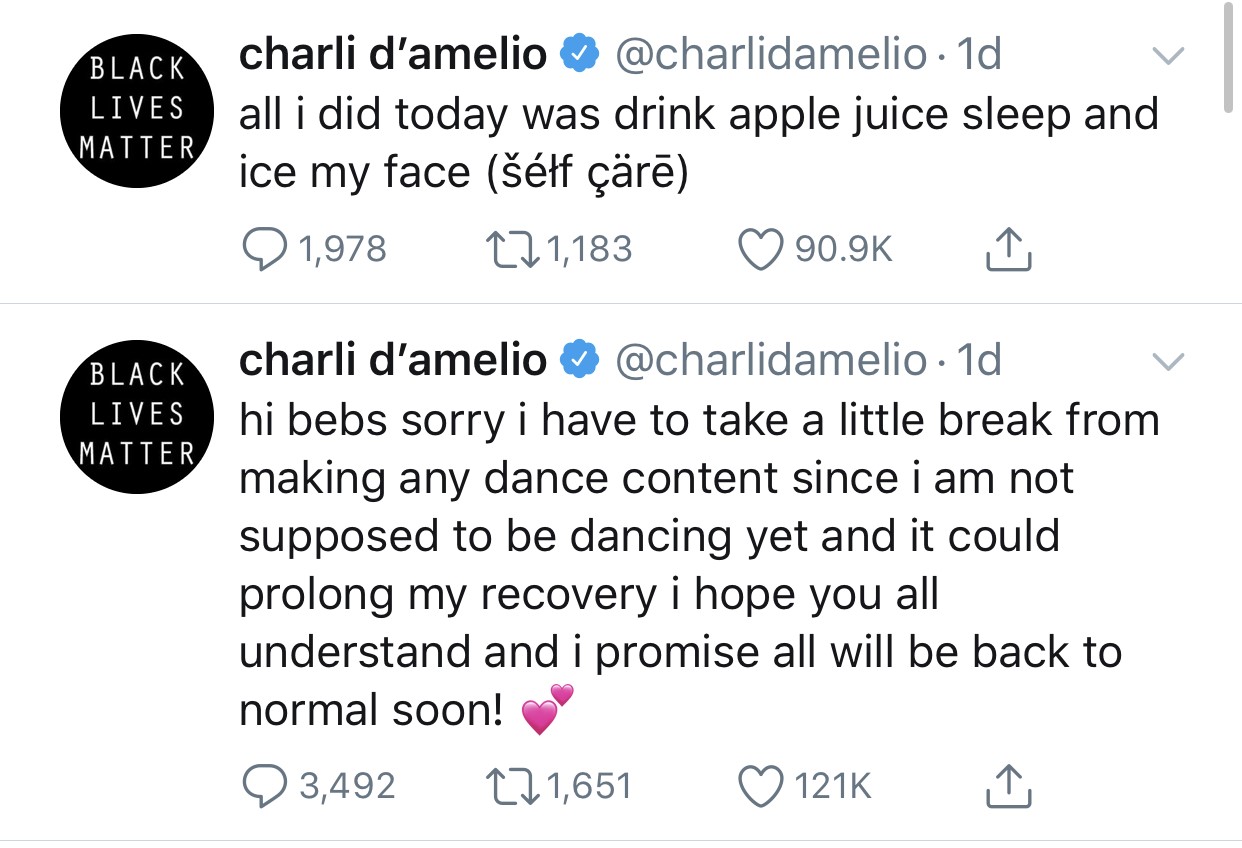 She announced on her Twitter yesterday that she won't be able to make dance videos for a few days.
Last but not the least, James Charles just posted this picture on his Instagram story to show love and support to his BFF Charli D'Amelio. Isn't he the sweetest? We all need a BFF like him in our lives. James also did a beauty battle collab with Charli and her sister Dixie.
Don't forget to pray for Charli's speedy recovery. And let's just hope that she gets well real soon.