By popular and unpopular opinion, here is a list of 5 Fiction/Fantasy romance Book Series that should be adapted into Movies/TV Shows for readers and non-readers alike to watch!
Related: Best Novels That Should Be Made Into TV Shows
1. Rock Chick Series by Kristen Ashley
With eight books and several novellas, this is a favorite among the fans! The stories of the Rock Chicks with their hot bunch and their wild ride romances are the real deal. The first book in the series has a 4.18 out of 5-star rating at Goodreads with every other book above 4. This contemporary romance will have you laughing out loud more times than you can count. It also features heartwarming, tragic, thrilling stories that fans would love to see on the big screen!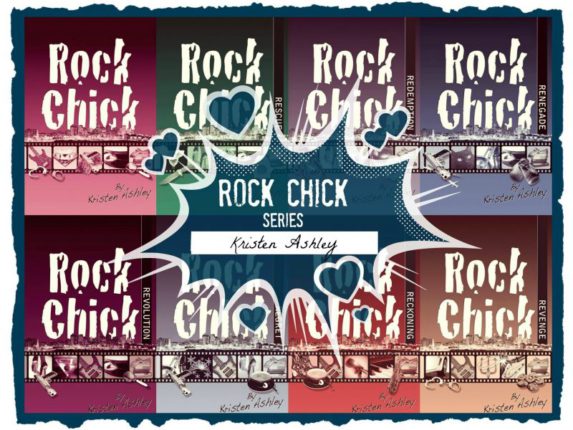 The story of Rock Chicks starts with Indy Savage!
Indy Savage, is a cop's daughter, a rock chick at heart, and a used bookstore owner. She has been in love with bad boy Lee Nightingale since childhood, the owner of Nightingale Investigations. Indy has been trying to catch Lee's attention since she was 5 years old. But he never showed an interest and she gave up.
Fast forward years later, Rosie, an employee at Indy's bookstore has lost a bag of diamonds and bad guys are shooting at him. Indy tries to help Rosie by getting involved. Then Lee is compelled to help her because deep down he also has feelings for her. There are stun guns, kidnappings, and car bombs exploding everywhere. And not to mention, Indy is finding dead bodies.
She wants to go a few steps ahead of Lee and is trying to find the lost diamonds before him. But Lee and his investigator friends are trying to keep Indy alive. Lee is also trying to win Indy because they are both endgame! Following the first book, there are many other rock chicks that fans fall in love with and their equally attractive and badass boyfriends!
2. Caraval Series by Stephanie Garber
New York Times bestselling Caraval series is a young adult fantasy romance. This book has a 3.96 out of 5-star rating on Goodreads. Based on a fictional world, this is a trilogy that will keep you on your toes. Competition, romance, and an unbreakable bond.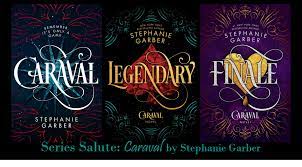 The storyline of Caraval's first book
Sister Scarlett and Tella live with their influential and heartless father on a tiny island. Having never left it, Scarlett fears the worst when told that her father has arranged a marriage for her. She wants to visit Caraval since it's been a lifelong dream of hers. But now, it seems like a long shot now. When her long-awaited invitation comes, Tella takes away Scarlett with the help of a sailor.

The minute they arrive, Tella is abducted by the genius behind Caraval known as Legend. This year Caraval focuses on Tella and the person who finds her first will become the winner.

They tell Scarlett that everything that will happen is just for show. But she gets trapped in the game of love, heartbreak, and magic instead with the other players. Scarlett doesn't know if Caraval is genuine or not, but Tella must be found before the 5 nights of the game are over. Like ripples in a Pond, dangerous consequences are set off, and her sister vanishes forever. The Goodreads description of the book says:
Welcome, welcome to Caraval . . . beware of getting swept too far away.

Whatever you've heard about Caraval, it doesn't compare to the reality. It's more than just a game or a performance. It's the closest you'll ever find to magic in this world…
3. Luxe Book Series by Anna Godbersen
Based in Manhattan in 1899, Luxe follows the stories of two sisters. Rich, powerful, and spoiled for their ages. As I read somewhere, an old-fashioned gossip girl. There are four books in this series with the first one rated at 3.63 out of 5 at Goodreads. If these books ever get adapted, let's just say there is going to be a lot of Drama in store for us. It's kind of like Bridgerton in that regard!

Gatherings until the crack of dawn. Gorgeous and beautiful girls and handsome Boys with troublesome intentions. Little white lies, dirty little secrets, and improper love affairs, this is Manhattan 1899. The two sisters Elizabeth and Diana Holland control Manhattan's social circle.

When they come across the fact that their standing among New York City's high society is far from certain. Immediately everyone is a rival. From the double-crossing socialite Penelope Hayes to the dashing bachelor Henry Schoonmaker, to the nasty maid Lina Broud. Who is jeopardizing their time ahead?

Can Elizabeth decide between family and love when the fate of the Hollands rests upon her shoulders?
Elizabeth's carriage overturns near the East River, and the girl whose life fires up the city's gossip pages is devoured up by the pressure of the waves. The whole city mourns and some people begin to make speculations about whether life at the peak was too much for her. Maybe someone wanted to get rid of Manhattan's most praised daughter.
Innocence is anything but innocent.
4. The Lunar Chronicles Book Series by Marissa Mayer
The Lunar Chronicles 1st book cinder with a rating of 4.14 out of 5 at Goodreads, is another great option for a movie or TV adaptation. The books are a series of young adult novels with a mix of romance and science. It is a re-envisioning of a classic fairy tale in a modern world where humans, androids, and man-like robots coexist. Imagine your old favorites in a world full of new possibilities.

The first book opens up to a teenage cyborg named Cinder who deals with her wicked step-mother, has to find love, and discover secrets about herself. As the series continues, she makes a pact with Scarlet, a spaceship pilot, Cress, a locked up computer hacker; and Winter, a Lunar princess. Together with a diverse team including a soldier, a criminal, and a royal guard, who must work together to rise up against the evil Queen Levana to save the country and possibly even the world.
5. Serpent & Dove Series by Shelby Mahurin
Imagine a book series being raved about by other authors. Serpent and Dove is a fantasy trilogy of witchcraft and forbidden love. The first book with 4.03 out of a 5-star rating at Goodreads.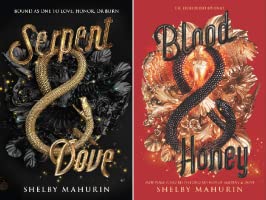 "A brilliant debut, full of everything I love: a sparkling and fully realized heroine, an intricate and deadly system of magic, and a searing romance that kept me reading long into the night. Serpent & Dove is an absolute gem of a book." —Sarah J. Maas, #1 New York Times bestselling author of A Court of Thorns and Roses series
Louise Le Blanc is a witch who flees her coven and takes shelter in the city abandoning all magic. Stealing whatever she can to live. In the city of Cesarine, witches like her are hunted down are dreaded, and set fire to. Reid Diggory has lived his life by one fundamental rule, that he will not let any witch live, swearing himself to church as a hunter.

Their path was never meant to cross but some unfortunate events force them into an impossible union—holy matrimony. The church and the witches have been at war for a long time. Louise's foes bring a fate worse than death. When she can no longer ignore her growing feelings, yet is powerless to change what she is. She has to make a decision. What will she decide?
Bound as one to love, honor, or burn.
All of these books deserve an adaptation on the screen! Do you think so too? Or do you think another romance series should have been on this list as well? Let us know in the comments down below!