If you want a show that's feel-good, fun, a Lil scary at times but has the perfect mix of fantasy, suspense, and romance, you might want to give Chilling Adventures of Sabrina a try. Sabrina, as you could probably tell, is the main character of the show. And the one it's all based on.
Who Is Sabrina Spellman?
Now, you might be wondering, who is this Sabrina? Good question. Sabrina Spellman, played by Kiernan Shipka, is a 16-year-old half-mortal and half-witch who ends up saving the world. More times than I can count honestly. But before we move on with the story. What is up with creators making fantasy projects around half-mortal and half-witch teenagers saving the world? (If you get the reference, we can be friends)
https://twitter.com/KosokoJackson/status/1056293628895735808
But nonetheless, we aren't tired of the concept just yet. And seeing a 16-year-old girl kick-ass of some sexist men with fragile egos always makes our day better.
Yep, that's CAOS for you, folks. The first show in ages, or maybe ever, to manage to showcase feminism while not going too overboard and scaring off all the misogynists but instead keeping the audience hooked to every episode. That's a victory in itself.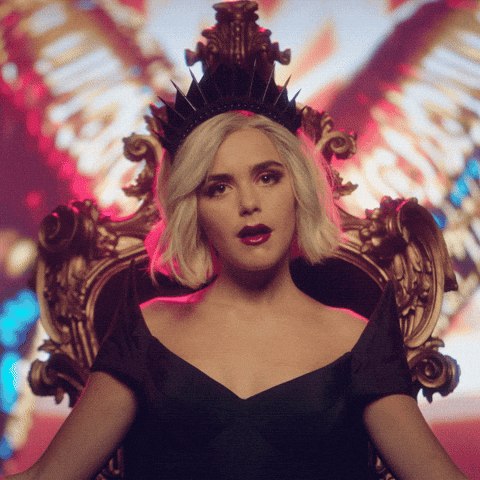 But all this girl power is very carefully hidden in this coming-of-age show. And it's designed to subliminally influence its younger audience to not be like the narcissistic and sexist men in the show.
Chilling Adventures Of Sabrina As A Manifesto
Raging war with the Dark Lord from the very first episode. Forming a group protecting women's rights (WICCA). And putting some bullies in their place. These are a few things Sabrina managed in the very first season. And don't even get me started on the second. But as the third part loomed on, Sabrina had transformed into one badass chick who put even the Kings of Hell in their places. Not to mention the deviously handsome Prince of Hell.
No matter what anyone says, CAOS is one coming of age show that everyone should watch. Even if the hexes, incantations and potion brewing (JK, there is no potion brewing in CAOS) is too 2001 Harry Potter style for you. Or if the double life is too Disney for you. *cough* Hannah Montana *cough* We suggest you give it a watch for the sake of Salem, Sabrina's adorable familiar that we just can't get enough of.
Related: Swimming with Sharks' Trailer Shows Kiernan Shipka Alongside Diane Kruger