The internet has gone into a frenzy ever since the Jonas brother reunited and released their new song Sucker. Since the song has become the number 1 trending on YouTube as well as iTunes, it's safe to assume that people are loving it. Or perhaps it's the excitement of the Jonas brothers reuniting that's causing the popularity! In either case, you might be surprised to know that OneRepublic frontman Ryan Tedder actually wrote the song Sucker alongside the Jonas brothers.
Ryan Tedder explained that this new joint music journey started a few months ago when they were hanging out with another fellow musician and DJ Diplo. If you put a bunch of singers and creative artists in one room, you should expect impromptu musical sessions. Basically, Ryan Tedder and the Jonas brothers ended up creating some interesting ideas for new songs. It eventually led to them officially collaborating for a new song. OneRepublic frontman Ryan Tedder stated that he even had to sign a non-disclosure agreement! Though, the singer and song-writer for OneRepublic expressed his awe of the professionalism and creative talent the three brothers possessed. They did not stop working until they could come up with some great musical pieces.
Though, it seems like Ryan Tedder really enjoyed working with the Jonas brothers! He might even leave OneRepublic and join their band officially. He even shared a picture with himself Photoshopped in the original cover photo. Ryan Tedder, donning casual clothes, can be seen standing alongside Joe Jonas, Nick Jonas, and Kevin Jonas.
Ryan Tedder Hyping Up the Jonas Brothers!
OneRepublic's frontman seems to be the proud dad of the young Jonas brothers! Every time they get trending, Tedder is here to celebrate and congratulate the Jonas brothers.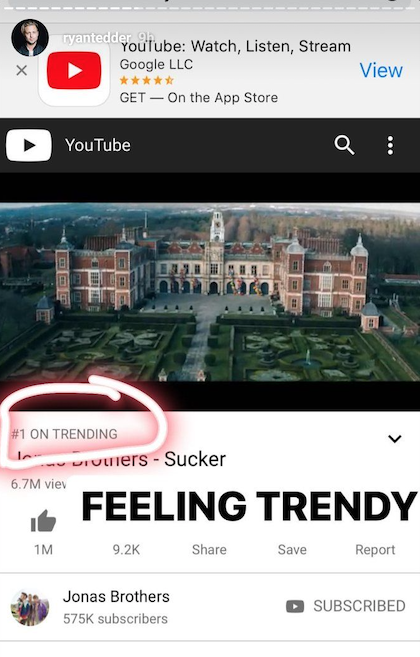 We certainly thank the universe for gracing us with this musical collaboration. Apparently, there's a lot more to come as per Ryan Tedder.
Let's see what more tunes the Jonas brothers have in store for us. And whether we'll see Ryan Tedder singing in any of them or not!
Jonas Brothers and OneRepublic's Musical Careers
The Jonas Brothers have reunited after a six-year-long hiatus. Previously, they have three albums Jonas Brothers, A Little Bit Longer and Line, It's About Time, Vines and Trying Times. During the hiatus, Joe Jonas formed a music group called DNCE with whom he released song Cake by the Ocean. Whereas, Nick Jonas has had a successful solo music career where he released songs such as Jealous, Right Now, Under You, Close.
Meanwhile, OneRepublic was formed back in 2002 and consists of lead vocalist and frontman Ryan Tedder, guitarists Drew Brown & Zach Filkins, drummer Eddie Fisher and bassist & cellist Brent Kutzle. Their popular songs include Apologize, Good Life, Counting Stars, Secrets and If I lose Myself.
Ryan Tedder himself has written and produced singles with a lot of popular musical artists such as Kelly Clarkson, Jennifer Lopez, Carrie Underwood, Adele, Demi Lovato, Hilary Duff, Whitney Houston, Natasha Bedingfield, Tiesto, and Ludacris.