Rejoice Greendale humans for the movie we were always waiting for is finally coming!
'Six seasons and a movie' was a favorite line for Community fans as it brought some faint sense of hope that the most hilarious ensemble in TV fiction might return on our screens again. And guess what! It's happening. Minutes ago, Community's Joel McHale (who played the charming leader Jeff Winger) posted a picture on Instagram that said "And a Movie!". Shortly after, the official account of the Community also posted the same picture. We also saw Danny Pudi (the fan favorite Abed) posting the same picture.
Related: Community Movie Release Date | What We Know So Far
So, here's the post Joel McHale made which brought immense happiness to fans like me
(You don't get it guys, I'm not just a fan, I'm a die-hard fan). I'm if Abed was a fan of the show.
To quote Abed, this is very 'cool, cool, cool'. I also checked to see who Joel tagged to get an idea of who would return:
Okay, so judging from the tagged photos, we know that the movie may get some of the entire original cast except for Chevy Chase as he isn't tagged. There's Yvette Nicole Brown (Shirley), Donald Glover (Troy Barnes), Jim Rash (Dean Pelton), Ken Jeong (Chang), Alison Brie (Annie), and I think Joel incorrectly tagged Gillian Anderson. He may have wanted to tag Gillan Jacobs who played Britta Perry, but Gillian doesn't have an Instagram account. Unless Anderson will also play a role?! That would definitely be interesting.
Dan Harmon, the creator of the show, was also tagged so obviously he's attached to the movie. And fans wouldn't have it any other way because the seasons with Harmon were perfect. They were, as we Community fans say, streets ahead.
However, TVLine writes that Yvette Nicole Brown and Donald Glover will not return. Glover left during season 5 and Brown left after season 5. Chevy Chase will not return either as his character Pierce Hawthrone died in season 4. There were a bunch of new characters that we got to see and love (Jonathan Banks as Mike, Paget Brewster as Frankie, Keith David as Elroy Patashnik). Sadly, they're not returning either. There were hopes that John Oliver's Professor Ian Duncan may return but he isn't either.
The ones that are confirmed to return are Joel Mchale, Jim Rash, Alison Brie, Gillian Jacobs, Ken Jeong, and Danny Pudi. The original chemistry of the main study group was truly magical. While it would be sad not to see that again, Dan Harmon and the cast will definitely think of something truly unique to satisfy their fans who were waiting for far too long. But we must remember the iconic Abed quotes:
"Chaos already dominates enough of our lives. The universe is an endless raging sea of randomness. Our job isn't to fight it, but to weather it together, on the raft of life."
Where to watch Community movie?
In the streaming age, we always knew that if a Community movie were to arrive, it would be on a streaming service. So, Community is going to be aired on Peacock TV. And it's slated to arrive next year in 2023.
NBC Universal Television's Chairman of Entertainment Susan Rovner shared:
"'Six seasons and a movie' started out as a cheeky line from Community's early seasons and quickly ignited a passionate fan movement for this iconic, hilarious, and cool (cool, cool) NBC comedy. We're incredibly grateful that 15 years later, we are able to deliver fans this promised movie and can't wait to get to work with Dan Harmon, Andrew Guest, Joel McHale, Sony, and our partners at UTV to continue this epic comedy for Peacock audiences."
This is the first official news we got to hear of it, so this is all we know for now.
The plot of the Community movie hasn't been revealed yet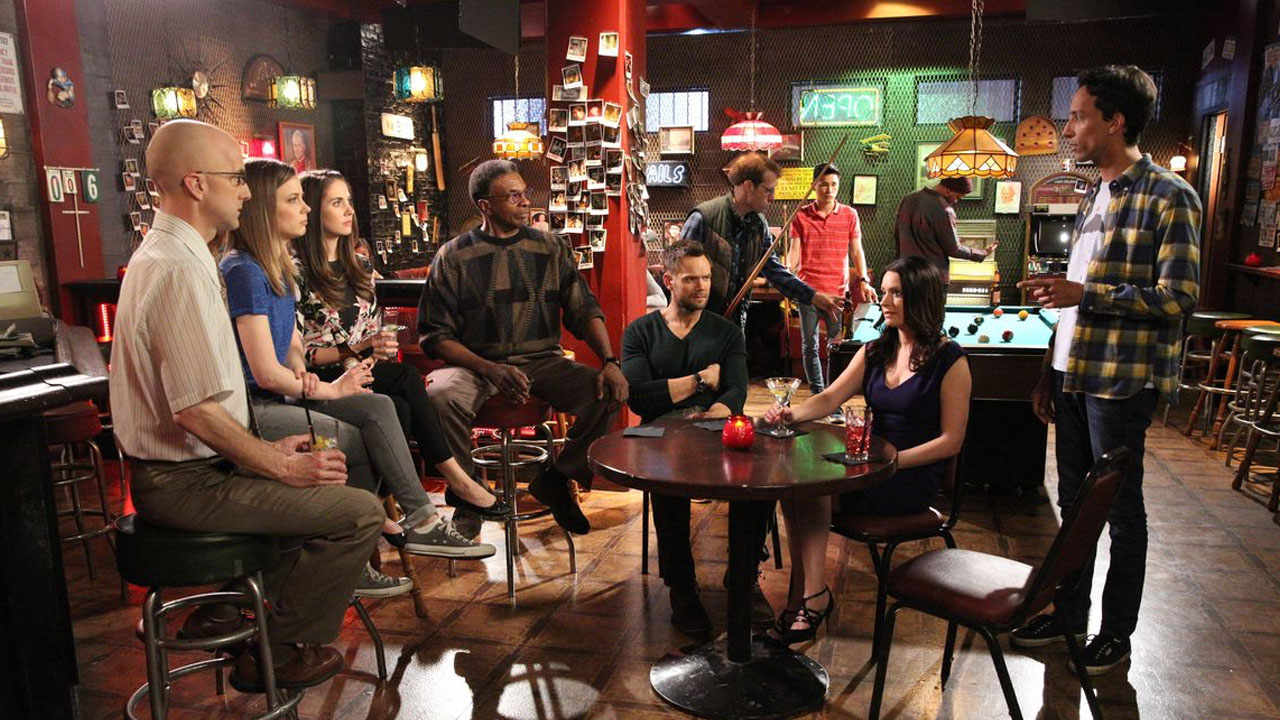 In season 6 of Community, we know that the study group was no longer a study group but rather 'Save Greendale Community' (a meta-reference to how the show needed to be always saved as it was always on the brink of cancellation). The save Greendale community often had to save the community college from threats like their rival college, City College. And of course from the threat of the ass crack bandit. They also had to save the college from being sold to Subway.
Where Community last left off?
At the end of the finale, we see Jeff saying goodbye to Abed as he goes to Los Angeles to become the production assistant on a Fox TV Series (perfect ending for the character). Annie goes to do a summer internship with the FBI. Jeff Winger is definitely sad about the change but he finally accepts that change is part of life. The finale was quite emotional but it also gave a satisfying finality to the characters and group we fell in love with. Jeff Winger stays at Greendale with Britta and Dean Pelton. Even Elroy moves away as he gets a job offer from LinkedIn. We'll see what adventures our favorite cast gets to next in the upcoming movie.
Each episode of the show was a ride, from start to finish. Some episodes like the famous paintball ones had a cinematic feel about them while also making you laugh, cry and wonder all at the same time. So, we're sure the movie will do the same!
As Vox's Emily St. James aptly wrote:
Deep inside the show's story about broken but good people trying to make each other whole was a story that I — and then lots and lots of other people — sparked to, and in trying to capture the joy it made me feel, I found my critical voice.