Jake Paul Addresses Fans Questions About Jake Paul Uncut
When it comes to scripted vines and YouTube vlogs, Jake Paul really does ace the game. Recently, Shane Dawson hurled accusations at the renowned YouTuber. He released a seven part series, 'The Mind Of Jake Paul', where he labelled Jake Paul as a sociopath. Dawson exclaimed that Paul's behavior was textbook psychological disorders. While Jake Paul fans were quick to defend him, there were several people who also raised eyebrows over the evidence Dawson presented to support his claims. In response to recent accusations, the YouTube king will soon release an uncut film where he will demonstrate the unfiltered raw footage of his routine life. Paul released the trailer of the uncut video this Sunday and it quite predictably filled the brains of his audience with perplexity and curiosity. Sources also believe that Paul will reveal some startling secrets about his life, and break up with Erika Costell in the forthcoming video. It is; hence, no surprise that fans are curious to know what is in store for them in the video that will probably release later this month. Understanding the apprehensions of his fans, Paul recently sat down to discuss the questions his fans had regarding the upcoming uncut film.
Is Jake Paul Uncut A Reaction To Shane Dawson's The Mind Of Jake Paul?
First of all, fans wanted to confirm if Jake Paul's video was his response to Dawson's The Mind Of Jake Paul on Jake Paul's antisocial behavior. While Jake did not directly admit that it was Shane Dawson who inspired the idea of an uncut film, Paul did admit that after Dawson's films he realised that he needed to be more emotionally open before the public.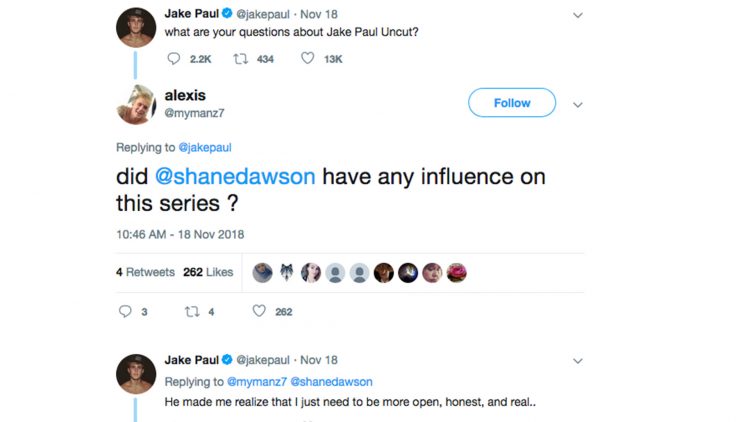 Fans also wanted to know if Paul was feeling better after unleashing his frustration in the video. Paul replied in affirmative. He told his fans on Twitter that he presented an honest take to his ardent fans. And this has helped him cope up with the trauma Shane Dawson caused him with The Mind Of Jake Paul.
Jake Paul Uncut Will Be Nothing But Honest
Jake Paul uncut will not be about drama. It will rather be a truthful, honest side Jake Paul has regarding the several controversies surrounding his life. The film will also contain major financial aspects, where Paul will also discuss business. Paul has devised this new strategy to invite a wider audience consisting of older age groups to watch his videos.
It won't create drama!! A lot of it will be mainly focused around me and how I'm feeling and what I'm going through??

— Jake Paul (@jakepaul) November 18, 2018
I think this will definetly have an older audience watching it!! I talk a lot about business in the series as well!!

— Jake Paul (@jakepaul) November 18, 2018
What Did Jake Paul Say About Erika Costell?
There is another reason why Jake Paul is doing the uncut series. And it is his recent break up with girlfriend Erika Costell. On Twitter; however, Paul essentially avoided any questions about Erica. Twitterati even accused Paul of doing a video about his relationship without the consent of his ex-girlfriend.
do ya even have erikas consent on this?

— Lea ? (@shadyrikk) November 18, 2018
But even amid the allegations, Paul chose to stay quiet. Paul was responsive to the various other questions asked about the uncut video. He; however, did not comment on any details about his breakup with Erika Costell.
The uncut video will air on November 25th. It is a proper series with 5 to 6 episodes and each episode will be 30 minutes long. In the series, Paul will give an overview of his life unfiltered and raw. He will the depict how he has been trying to deal with his breakup. The video will also feature emotional segments as Paul will discuss his sentiments post-breakup.